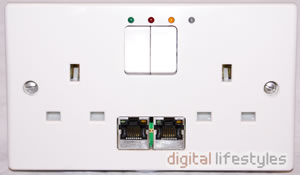 You know the dilemma. You need a network at home. You find WiFi doesn't cut it and CAT-5 cabling is a major pain to install.
En-Twyn, a company from London, have a prototype unit showing at CeBit on the Intellon stand (it uses the latest generation of Intellon Powerline chips).
What makes their En-Compass product different is that all of the electronics are incorporated into the back of the socket. It fits into a standard mains back box and you don't see anything hanging out of the front.
We've written about the idea for years, giving an introduction to HomePlug back in 2003 and have reviewed products that plug into the mains of your house, like the LEA Universal NetPlug over the years.
The problem with current Powerline devices is that they plug into power sockets – sticking out.
By contrast, the En-Compass is built into the socket. It's one of those products that you look at and just say, "Of course!"
With research pointing to 1 in 3 Euro Homes having and AV/IT Network by 2010 En-Twyn look like they could be on to a pretty good thing.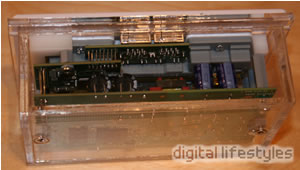 Prototype shows the way
The prototype shown is built into a standard 2 gang socket and has 2 (switched) Ethernet ports on the fascia. There are LEDs on the Ethernet ports indicating activity, link and speed. The socket fascia also has LEDs indicating sync, activity and power for the Powerline electronics and a sync/reset button (one press for sync, long press for reset).
Since the socket fits into a standard back box, all that's required to install is to replace existing sockets with the new one (turning the electricity off at the fuse box or circuit breaker first generally reduces the chance of being electrocuted!).
Two sockets need to be installed to make a network – one as the source of the network, they other the destination. On powering-up, the Powerline electronics should look for other devices and automatically mesh any units found. The current generation of units support up to 32 devices in any one network (i.e. 32 sockets – 64 Ethernet ports), but we understand that this is also likely to increase.
Different networks can be selected allowing more devices if necessary, just as long as there are 32 devices per network (the networks can then be externally connected together using an Ethernet switch).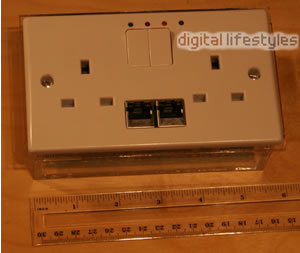 We understand that other interfaces are going to be supported in future such as video and various short-range radio technologies.
What this means is that a broadband connection that is in one room of a house can be made available to any other rooms in the house, just using the electrical wiring – and without plug-clutter (we should trademark that one!)
No, you can't buy it yet
We weren't quite sure, so we asked a representative for En-Twyn if both an electrical plug and Ethernet could be installed at the same time — it looked a little close from the pictures. They assure us this has been tested to work just fine.
They've also got another prototype in the works that rotates the Ethernet socket 90 degrees and drops it down a little.
Though the prototypes are on display, they are just that at this stage. En-Twyn tell us that they're looking to get the units manufactured either directly or with partners.
So don't go trying to buy one just yet. But tune back and we'll tell you when they get any closer – this is a one that we'll be keeping a close eye on.