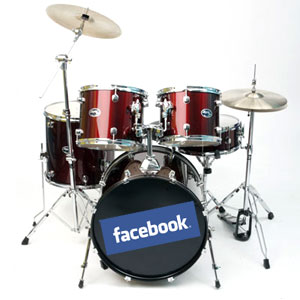 Oh great. There's yet another social networking service arriving on an already crowded landscape, and this time it's Facebook ripping off MySpace by offering their own full-on dedicated music service.
The feature set appears to be a note for note copy of the basic MySpace services, so bands or musicians can create their own homepages, add songs and videos, post up information about gigs, blog updates and news, yadda yadda yadda.

Users can add new functionality by bolting on a load of Facebook and third-party applications, including tools for customised Facebook pages, a Flash and music player, song rating tools, a Discography tool and software for blasting out news bulletins.
The Music Today service lets acts flog tickets and merchandise through a deal with the Music Today service, while a tie-in with Apple lets bands slap a direct link on their homepage for punters to buy their tunes via the iTunes music store (so it'll come burdened with DRM protection).
According to Facebook, 100 artists have already set-up up profiles, with the list including riveting bands like Coldplay, the Dave Matthews Band, Cee-Lo, Gnarls Barkley and The Decemberists (be still my beating heart).
Developer Toby Beresford, who makes a living out of creating applications for social networks like Facebook, was well chuffed with the deal, telling Sky News Online: "I think this shows that Facebook are living up to their promise of being a 'platform' rather than a walled garden channel."
"They could have taken the Myspace route and chosen to make money from downloads themselves but by allowing iTunes to do it it shows they are looking to build up other people's businesses, not just their own," he added.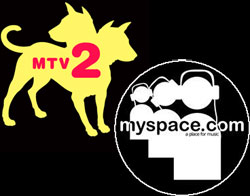 MySpace strikes deal with MTV for weekly chart show
Launching at the end of April is a new weekly chart show on the MTV2 channel called The MySpace Chart.
Featuring the best music videos voted for by MTV viewers and MySpace users on the soon-come mtv.co.uk/myspacechart website, punters will get to vote on 35 to 40 videos from the MTV2 playlist.
"The audience for MTV2 and MySpace are incredibly similar," synergised Philip O'Ferrall, VP of digital media at MTV Networks UK & Ireland, while Dom Cook, MD and Music boss at MySpace UK, added: "The way that consumers are accessing music is changing and The MySpace Chart on MTV2 brings together two of the most important forces in this evolution."
"MySpace is the world's largest online music destination connecting bands and their fans and it will be exciting to see how the community will contribute to the show," he continued.