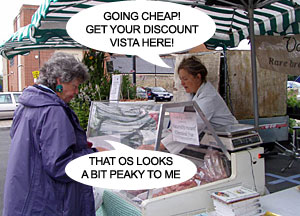 Microsoft has announced that it's set to cut the the price of Vista, with online discounts rumoured to send versions of Vista tumbling down to around half price.
Billy and his bog software gang plan to dish out the cheapo deals when Vista Service Pack 1 (SP1) reaches retail, and that's expected to arrive in around two months time (but don't quote us on that).

Although Vista hasn't been a flop – it's shifted a phenomenal 100 million licenses – it's failed to excite a lot of home users, many of whom are happy to shun the bells and whistles of Vista and stick with their faster, leaner XP machines.
Price cuts
Here's how the price cuts will pan out: In the US, the upgrade version of Vista Home Premium will drop 18.8 per cent, from $159.95 to $129.95, while the full edition of Vista Ultimate will collapse 20 per cent, from $399.95 to $219.95.
Back here in Blightyland, the Vista Home Premium upgrade will get karate chopped a hefty 46.8 per cent, with the full edition of Ultimate receiving a flurry of blows to the body, slamming it down 43.5 per cent in price.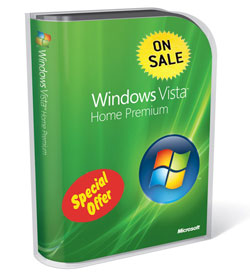 Europe won't be missing out on the big sale either, with the Home Premium upgrade tumbling 46.2 per cent while the full version of Ultimate will be hammered down 44.3 per cent.
Microsoft's big giveaway sale gets even bigger in territories like India, where the full version of Vista Home Basic will plummet by 48 per cent.
Even with these mighty discounts, there's no one in our office who'd want to 'upgrade' from their current XP machines. But if they threw in some free beer, we might just be tempted. But only if it's good stuff, mind.