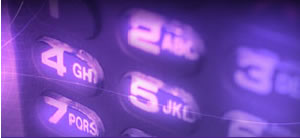 Here's an interesting twist, melding old telecoms with new.
Voipfone, UK VoIP providers, have started offering a VoIP service on a 'normal' BT landline.


We got straight on the phone (Voipfone, as it turns out) to speak to Colin Duffy, CEO of Voipfone. He provided us the detail about this "kind of new fashioned" service.
It provides a two-sided benefit – customers don't need to install any equipment beyond their normal BT phone handset (no broadband routers, etc); the calls that they do make will be charged at Voipfone rates (normally 1p/min).
Alongside these obvious benefits, additional Voipfone services will be available on the line, like being able to record phone calls (by dialling #0); put calls on hold and transfer calls to other numbers.
BT Price Increase Soon
The timing for the release of this service couldn't be better for Voipfone, BT have announced that they are putting UP the minimum price of phone calls on their service starting 1 April. Yes, that's right, UP! So much for the theory that the market decides the right price with competition.

While using Voipfone on your BT phone, calls are charged at 1p/min and importantly, per fraction of a second used.
BT on the other hand are revising the price of daytime calls from 3.25p a minute to 4p a minute, if you're not on one of their increasingly-complex call plans.
In the days we live, where many people aren't available on their phone, or are on a voice mail when called, this will get pretty expensive via BT, whereas Voipfone customers will only pay a penny to find that out.
Oh, and BT will be increasing the charge if you want your phone bill posted to you, up to £1.25.
How does Voipfone do it?
When competition was first introduced into the UK, a thing called Carrier PreSelection (CPS) was used to route calls to other phone providers, apart from BT.
Consumers found it a bit of bind to have to dial the four digits before the phone number, but luckily Voipfone have managed to reverse it.
If you want to route your call over the BT network — with the associated BT charges — all you need to do is dial 1280 before you call. Without it, all other calls go via Voipfone.
Signing up
BT, being what BT is, needs 10 days to convert your phone line over to Voipfone. There's paperwork involved, but luckily for converting customers, Voipfone will handle all of this. It's a £20 charge to convert.
More details over at Voipfone