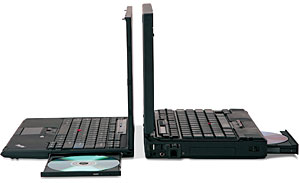 Lenovo have unleashed their new Ultraportable ThinkPad X300 laptop, a machine so sleek, powerful and packed with techie goodness, that an increase in road warriors' laundry charges is anticipated.


The thinnest and lightest ThinkPad to date, the X300 measures up at just 0.73 inches at its thinnest point by 0.92 inches at its thickest point, and weighs just over 3lbs with a DVD-RW drive onboard.
"The challenge we shared with Lenovo in its development of the ThinkPad X300 was in making things small without losing key capabilities, such as performance and battery life," commented Mooly Eden, corporate VP and general manager, Intel Mobile Platforms Group.
"Intel's contribution included developing packaging technology that enabled us to shrink the Intel Centrino platform by more than 50 percent, yet retain its high performance and low energy consumption," he added.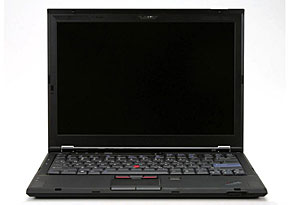 The X300 is powered by a specially developed Intel's Core 2 Duo SL7100 LV low-voltage chip, operating at 1.2GHz, with support for up to 4GB bytes of RAM.
The carbon and glass fibre toughened notebook comes with a 1.8-inch 64 GB SSD which Lenovo claims provides "more than twice the performance of a regular 2.5-inch hard drive".
Lenovo say that the lappie uses 25 percent less power than previous ThinkPad models, with up to 10 hours battery life (using optional additional 3 cell battery).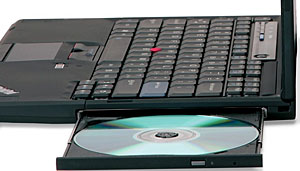 Preloaded with either with Windows XP Professional or Windows Vista, the X300 features a 13.3-inch LED WXGA+ high resolution backlit display, a removable battery and a built-in DVD burner plus WiMax, WLAN and GB Ethernet connectivity and onboard GPS capabilities.
The X300 comes just over a month after the uber-hyped launch of Apple's MacBook Air laptop. The Air may be the thinnest and most stylish laptop on the planet but its lack of business essentials like a removable battery, optical drive and multiple USB ports give the X300 a clear advantage in our eyes. After all, it's quite hard to look stylish and moderne when your battery has just run out.
Prices for the X300 start at $2,799, with the machine available through Lenovo's Web site and retail partners immediately.