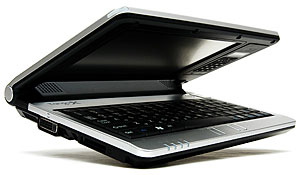 The onslaught of Eee wannabes continues with Sungjut's diminutive TangoX Nano UMPC adding a novel internal Skype/VoIP phone that pulls out of the laptop's body.


Measuring up at just 230 x 171 x 29.4mm it's a wee fellow alrighty, and its 0.97kg weight shouldn't leave you with too much electronics ballast to lug about.
Taking a brief rummage around the Sungjut's gubbins, we find a VIA CPU C7-M ULV purring along at 1.2GHz, backed by 1GB of DDR2 RAM.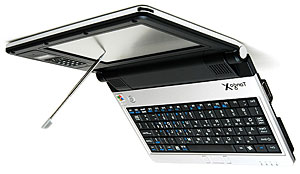 Storage options come in the shape of 40GB or 80GB hard drives, with the 7″ WVGA (800×480) touch screen nestling up against the inlaid phone (we assume that this is cordless jobbie else you'd look like you're using a 1980s mobile).
A telescopic stylus is on hand to pop out of its little home to let you get all pointy if you feel the need.
Sliding our finger along the well-plumped-out spec list, there's also HD Audio onboard, a handy 4 in 1 Card reader, an Ethernet port and Wi-Fi a/b/g, plus USB 2.0 (2 ports – take that MacBook Air!) and DVI output.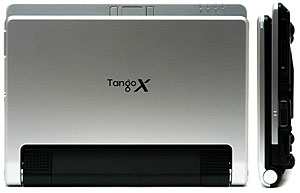 With all that technology packed into a case barely bigger than the Eee we're certainly scratching our chins and thinking, "Hmmm," although the decider will be how the keyboard shapes up and, of course, the price.