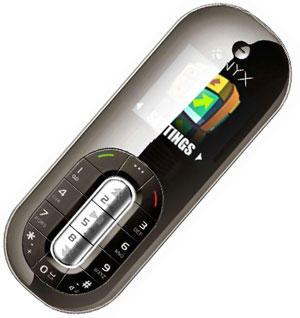 New Brit tech company Onyx have launched a "stylish, elegant" wee handset, apparently designed for "the discerning mobile user" (that's us out of the running, then).
It's certainly a highly pocketable chappie, measuring only 90mm long and 35mm wide, with Onyx insisting that its compact size makes it a perfect companion for the tightest of skinny jeans – great news for indie kids!
The tri-band mobile (GSM900 / DCS1800 / PCS 1900) packs USB 2.0, a built-in MP3 player and FM radio, although that teensy 1.1″ OLED screen (96 x 96 px, 65K colours) is a bit of a squinty affair.
There's support for microSD memory cards up to 1GB with 128 MB flash onboard, and battery life is quoted at up to 200 hours standby, 3 hours talk time and 11 hours music playback time.
But enough of our yakking, let's get Zafar Mirza of Onyx up on the podium to big up the Liscio: "If you appreciate beauty and design this is the mobile phone for you. The Liscio really is a hot, new handset that will turn heads wherever it goes." Way to go, Zafar.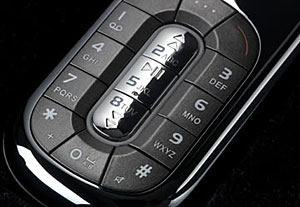 We covered the initial pre-launch of the Onyx Liscio back in January, where it was forgotten by those breathlessly promoting it that the phone had been launched elsewhere in the world – specifically the US, where it was tested back in October 2006 – until we pointed it out, only to be met with a somewhat-timid agreement.
We're going to get this baby in for our own review to see how it stands up.
The Liscio is sold as a SIM-free handset for £129.99 from www.onyxinnovation.com and major high street stores.
Onyx Liscio Specifications
• MP3 player
• Tri-band mobile phone (GSM900 / DCS1800 / PCS 1900)
• FM radio (40 stations can be stored)
• 1.1" OLED colour display
• microSD memory card slot
• Jog-button for easy scrolling through menus and playlists
• Phonebook with up to 500 entries
• Bluetooth• Stereo-Headset
• USB 2.0
• Stylish design, ultra small DISPLAY
• 1.1" OLED colour display (96 x 96 px, 65K colours)MEMORY
• Internal: 128 MB flash
• External: supports microSD memory cards up to 1GB
POWER SUPPLY
• Li-Ion battery 830 mAh, rechargeable via USB adaptor and PC
BLUETOOTH
• A2DP MP3 streaming
• Hands-free communication
• Service discovery
FEATURES
• Dual-Band (GSM 900/1800)
• Standby time: up to 200 hours
• Talking time: up to 3 hours
• Playback time: up to 11 hours
• Polyphonic MP3 ringtones• Voice recording
• Phonebook with up to 500 entries
• SMS memory (editable by user)
• Call history (last 50 calls, either missed, received or dialled)
• Audio format: MP3• Picture formats: JPG, BMP, GIF, PNG
HOUSING
• Black, high gloss finished
• Dimensions: 90 x 35 x 17.8 mm
• Weight (incl. battery): 60 g