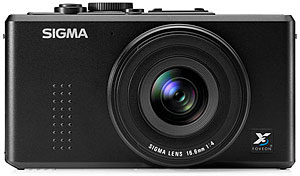 It's been nearly a whole year of waiting, but the big guns at Sigma are insisting that their long overdue and hugely anticipated DP1 digital camera is finally coming around the mountain.

What makes this digital compact exciting is the fact that Sigma have wedged in the same sized sensor as those found in many DLSRs – unlike the itty-bitty sensors that come in digital compacts, Sigma's full size (14 megapixel, 2652×1768×3 layers) affair should deliver vastly superior image-quality, particularly in low light.
As befits it enthusiast looks and price tag, there's plenty of hands-on controls to keep fiddling snappers happy, with three metering modes – Evaluative, Centre Weighted Average and Spot Metering – with Auto, Program AE, Aperture Priority AE, Shutter Priority AE and Manual exposure modes.
There's also a movie mode onboard, albeit a fairly rubbish one only offering a distinctly old school 30fps/QVGA (320 x 240) resolution.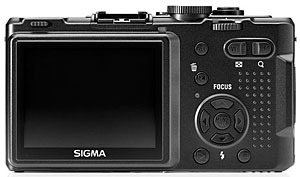 The Sigma comes with 9 point auto focus, and a manual focus option, while the built-in, pop up flash (Guide number 6, ISO100/m) offers Normal Flash, Red-Eye Reduction Flash and Slow Synchro Mode options.
The DP1 comes with a wideangle 16.6mm (28mm equiv) lens which disappointingly only goes down to F4, although the SLR-sized image sensor will provide far greater depth-of-field control than similarly sized digital compacts.
It is a bit of a bulky fella though, measuring 113.3mm/4.5″ by 59.5mm/2.3″ (H) by 50.3mm/2.0″ and weighing just 240g/8.5 ounces.
Looking very much like the Ricoh GX100/GR cameras, the back of the camera sports navigation controls and a scroll wheel, plus a 2.5 inch, 230,000 pixel TFT LCD monitor with the option to add an optical viewfinder, which slots onto the hotshoe.
Sigma are insisting that the camera will see a Spring release – we hope to get our hands on a test model soon.
Sigma DP1 site (annoying Flash movie with sound you can't turn off)