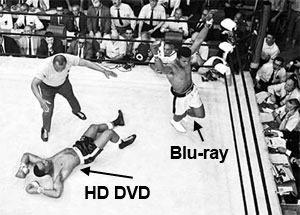 It may not be over until the fat lady sings, but there's a large woman standing on the stage and the band are already rocking to the Blu-ray theme tune.
Despite desperate price cuts by Toshiba on its HD DVD players in the U.S., research firm Gartner are going all Seven Of Nine and describing their resistance as futile, predicting Blu-ray's dominance to be complete by the end of 2008 in the consumer market.

Toshiba's price cuts came after Warner Bros delivered a devastating kick to the HD DVD goolies, declaring that it would shift from producing in both formats to just Blu-ray alone, making five of the seven major Hollywood studios exclusive Blu-ray producers.
This leaves poor old HD DVD (high definition digital video disc) with just two Hollywood chums, Paramount and Universal.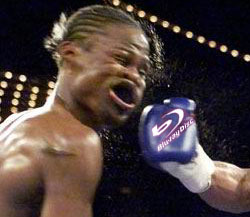 "Gartner believes that Toshiba's price-cutting may prolong HD DVD's life a little, but the limited line-up of film titles will inflict fatal damage on the format," commented analyst Hiroyuki Shimizu in Gartner's Semiconductor DQ Monday Report.
"Gartner expects that, by the end of 2008, Blu-ray will be the winning format in the consumer market, and the war will be over", he added, as vast reservoirs of tears caused the lifeboats to be despatched in HD DVD-land.
Toshiba took the pruning shears to its US prices in mid January, slashing the price of the HD-A3 player in half (down to US$149.99), while its higher- end models also saw price tags tumble.
Like a punch drunk boxer, Toshiba pledged to keep up the fight against Blu-ray at the International Consumer Electronics Show in Las Vegas earlier this month, despite numerous media reports and industry insiders declaring Blu-ray the winner by a KO.