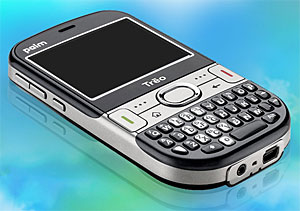 We managed to get past our normal near-pathological dislike for Windows Mobile handsets when were reviewed the Palm 500 a while ago.
Considerably assisted by Vodafone's slick custom interface and the impressive location based services, our stone cold hearts warmed to the Palm, despite the lack of a touch screen and, well, a Palm OS inside. After a week with the phone, we concluded that it was one of the best low/mid end Windows smartphones available.

If the Treo 500 also tickled your fancy, the good news is that it's now for sale in the UK on a contract-free basis, priced at £270 – which is more than we would have liked, but we expect you'll be able to unearth it cheaper over t'Internet.
The unlocked version runs Windows Mobile 6 Standard (without the extra Vodafone trimmings)and offers a full keyboard, large, bright screen and support for email, IM, SMS, Microsoft Outlook, Office, and Windows Live for Windows Mobile.
Decked out in a rather neat charcoal grey, the Treo 500 will be available from the Palm site and retail outlets from today.
Palm Treo 500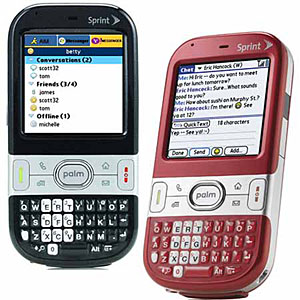 Palm Centro on its way?
The long awaited GSM version of the Palm Centro seems to be slowly swimming its way over to Europe-land, with a Dutch site recently spotting the phone flagged up for €279.
Already a big seller in America after picking up positive reviews, the award winning Centro is stuffed full of Palm's err, well-matured goodness, offering a 320×320 pixel screen, 64 MB RAM and a 1.3 megapixel camera in a slimmed down 10.7 x 5.3 x 1.9 cm package.
Although high end purists may sniff at the lack of GPS and Wi-fi, we still find Palm's usability, form factor and colossal software choice a compelling reason to hang on, but it has to be said that our patience knows some bounds. Sort it out Palm.
Other Palm news
Elsewhere, Palm has announced that it will be closing almost all of its bricks and mortar retail stores across the States, presumably in an attempt to focus resources on new phones.
They've also hired another ex-Apple executive, Mike Bell who had previously spent 16 years at Apple as VP of CPU Software, Macintosh Hardware.
The Silicon Valley tech gossip site Valleywag is speculating that there's more to this story than meets the eye: 'With latest hire, Palm's poaching at Apple comes to a boil.'