Here's the wrap up of the announcements from The Steve (by our Steve, funnily enough) at MacWorld, continuing from our previous piece.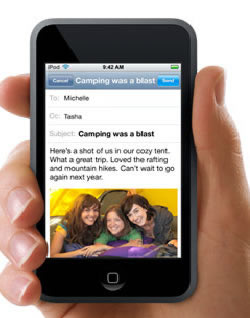 iPod Touch
The iPod Touch gets the same technology as the iPod (i.e. new Google MAPS, Webclips and customer home screens), however it also gets apps from the iPhone such as Mail, Weather and Notes. Google MAPS will use WiFi to get location information.
All new iPod Touch's come with the new software, unfortunately existing owners will have to pay $19.99 (£12.99/EU 17.99) to get it.
iTunes 7.6
A bit of history, 4bn songs have been sold through the iTunes store, with 20m being sold on Xmas day. They've also sold 125m TV shows and 7m films.
The big new announcement is film rentals. They done deals with the big 6 – Fox, Warner Brothers, Paramount, Sony, Universal and Walt Disney – and various others including Touchstone, Miramax and New Line.
By the end of Feb, Apple are expecting to have 1,000 movies available to rent (of course this only applies to the US, no international dates have been agreed/set – territory problems).
Films will be available on the iTunes store within 30 days of it being released on DVD.
Films will work on any iTunes supported device i.e. PC/Mac/iPod/iPhone.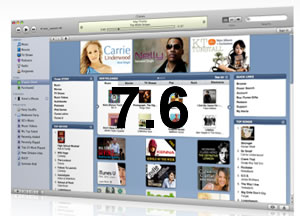 Once a user clicks on the "rent" button in the iTunes store, it will be available to watch within 30 seconds. It can be watched there and then (instant play) or the user can elect to watch the movie any time within 30 days, but once they've started they have 24 hours to finish watching it. The user can stop watching and then decide to watch on another device, so they can start watching a film at home, then finish on their iPod on the way to work in the morning.
Library films will cost $2.99 while new releases will cost $3.99
But that's not all, there will also be High Definition versions of movies available (of course not all the movies will be in HD) and the HD variants will cost $1 more
SD HD
Library $2.99 $3.99
New Release $3.99 $4.99
Another interesting bit that was slipped in by the VP of Fox was that new DVDs will have an extra track encoded in H.264 (though it seems there's also a Windows Media Video track there too) which means the video can be put into iTunes and then played there or on an iPod. It seems Fox's Family Guy 'Blue Harvest' (the Star Wars episode) is the first DVD to have this capability.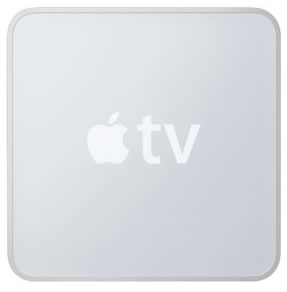 AppleTV
The AppleTV sales haven't been great, that's because no-one's got the IPTV play right yet, well now Apple think they have, as AppleTV no longer needs to be directly coupled to a local iTunes server (though of course it still will work that way).
Now songs/videos/films/podcasts etc can be directly accessed from the iTunes store. Anything bought/downloaded via AppleTV will then be "saved" back to the local iTunes device (so buy a track or movie from the iTunes store via the AppleTV and you still have it on iTunes on your PC or Mac).
AppleTV can also directly accesses content from .Mac (movies and pictures), pictures from Flickr and movies from YouTube.
Now that films are available in HD format, the HDMI port on the AppleTV may actually be useful.
The AppleTV has been reduced from $299 to $229 available in about 2 weeks, while current users get a free software upgrade.
MacBook AIR
(Further detailed coverage on the MacBook AIR – A Compromised Beauty)
The MacBook AIR is placed between the MacBook and MacBook Pro (mainly in price). It's really just a very squashed MacBook with a lack of some of the MacBook's connections i.e. no Ethernet, no Superdrive, few ports.
There are some improvements, the screen is beautiful (glass display, LED backlighting). The keyboard is full size, very usable and easy to type on. It's also backlit.
Unfortunately the only connectivity is WiFi (802.11n) and of course Bluetooth (2.1 EDR).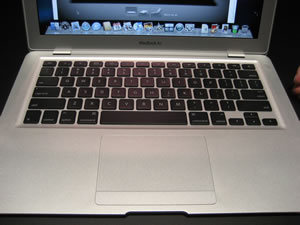 Apple claim it's the worlds thinnest laptop, which it probably is. It measures 0.76″ at the 'fat' end down to a miserable 0.16″ at the thin end. You could almost use it as a weapon of mass destruction or a blade?
The display is a widescreen 13.3″ (which Apple seem to think is the minimum size required to be usable) with an iSight sitting above it. There's also a HUGE trackpad (about the size on an iPhone) that supports gesturing (one, two or three finger movements, like pinching to zoom-in on photos). There's also a button along the botton of the trackpad, but that's almost redundant with gesturing.
There's 2GB of RAM as standard and an 80GB hard disk, though there's an optional 64GB solid state option (probably the same cost of the MacBook AIR again). Unfortunately the drive is slow (it's a 2.5″ PATA 4200 RPM unit) and it takes a while for apps to load for the first time.
The standard CPU is an Intel Core 2 Duo 1.6GHz, though there's a 1.8GHz option too (based on an extremely small CPU die Intel made for Apple).
The power supply is only 45W and comes with a magsafe connector. The lid also uses magnets to hold shut, so there's no clasps to get caught up in anything.
There's a drop down little side flap holding a USB, MicroDVI and headphone port (which also does TOSlink out for digital audio).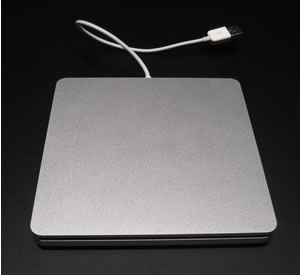 The MacBook AIR will ship in two weeks and pre-orders are being accepted on the Apple store. It costs $1,799 (£1,119/ EU 1,699), a USB powered external Superdrive costs $99 (£65/ EU89).
You might wonder how you install software (assuming you don't get the external Superdrive), well on the MacBook AIR (in Leopard – though it seems only for the MacBook AIR) there's an icon in the Finder called "Remote Disk" and by installing some software on MacOS X or Windows systems their optical drives are made available to the MacBook AIR (of course the user of that system will be asked if it's OK to use their drive). Even if the remote disk is a Windows system, it will still read a Mac formatted disk.
Mr Jobs was keen to promote the fact that the MacBook AIR is the most recyclable Mac ever made with an all aluminium case, no lead or mercury in the display, etc.
And Finally?
Well there wasn't one. A shame because though the above announcements were pretty good, they were not spectacular and people seemed to go away disappointed – no new iPhones, no ultra-portable tablet with some amazing wireless technology – just a squashed shiny MacBook, disk-ed Airport and stuff that AppleTV/iTunes should have had a while ago.