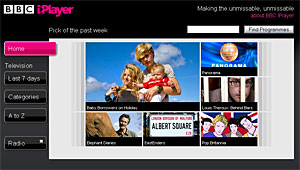 The BBC is reporting that their iPlayer is overflowing with win (as da yoot would say), with over 1m users streaming or downloading around 3.5m BBC programmes since the Christmas Day launch.
The on-demand Internet TV service notched up over a million users between Tuesday 25th December and Monday 7th January, downloading or streaming 250,000 programmes each day on average during this period.

The BBC said that most users preferred to stream the content rather than download it, with average users sat in front of their screens for for just under 25 minutes.
Not surprisingly, the big ho-ho-ho hitters were festive specials like Doctor Who Christmas Special, Extras Christmas Special, The Catherine Tate Christmas Show and the extra-gloomy Christmas Day edition of EastEnders, with Top Gear also ranking in the top five.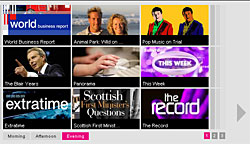 Here's the top 10 listing of iPlayer streams, with the original transmission date shown in brackets.
1. Doctor Who Christmas Special (December 25)
2. Extras Christmas Special (December 27)
3. Top Gear (December 23)
4. The Catherine Tate Christmas Show (December 25)
5. EastEnders (December 25)
6. EastEnders (January 1)
7. Sense and Sensibility (January 1)
8. Robin Hood (December 29)
9. EastEnders (December 31)
10. The Best of Top Gear (January 1)
"Typically, people who use the BBC iPlayer are spending nearly half an hour a day watching streams of their favourite programmes, suggesting that it looks set to revolutionise the way BBC TV programmes are viewed in the UK," commented Ashley Highfield, director of BBC Future Media and Technology.
"Significantly, while the BBC iPlayer allows the public to catch up on their favourite mainstream BBC shows, it's also encouraging to see that nearly half of all programmes streamed or downloaded are placed outside the top 50, demonstrating how on-demand services can bring niche programming to a wider audience," he added.