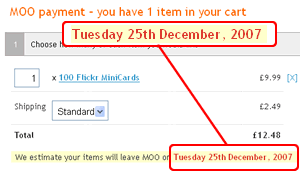 You'll know that we like Moo Cards and since that review we're orders quite a few more, for various reasons.
Today we needed to get some more, so thought we'd just as well act, rather than let it drift into the New Year.

After having run through the process (which, dear Moo, was a little slower than we'd hoped – but perhaps slow servers shows a successful site), we got to the normal 'this is when your cards should be be dispatched' notice.
We were surprised and amused to see that they were estimating that they should be sent out on 25 December – xmas day!
We know that the various Moo-sters are devoted to the Moo cause, but they're not going to be working over xmas are they? :)