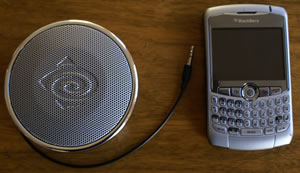 We get lots of stuff sent to us for review, and sometimes we can get a little blase about it.
When the Altec Lansing Orbit iM207 arrived, we were aware of they long background in providing speakers for computers, but were only moderately excited when it arrived.
Over the month plus that we've had it, this has changed quite a bit as it's proved itself to be a compact, highly capable bundle of fun.

Sound Quality
The clarity of the sound is high, especially when you consider its compact nature.
Something without much heft is always going to have trouble getting your teeth filling rattling with bass and while the bass output of the Orbit isn't like the scoops in a dub sound system, it is bearable.
The level of the volume really surprised us. It appears to have the ability to chuck the sound around well beyond the bound of its limited body.
We've found best audio results come from placing the orbit on a solid surface, with a marble fireplace giving the best results. If you haven't got one of those knocking about, don't worry, as it sounds pretty good on normal tables.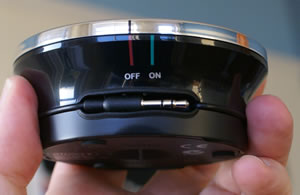 Size
It's 9cm (~3.5″) across and just over 3.5cm (~1.5″) tall, fitting easily into the palm of the hand – think of it about the size of an air hockey paddle.
Well thought through
You know what it's like. You have these tech devices in your bag, or knocking around and the cables get hideously tangled up with other things.
Altec Lansing have done the smart thing and have considered this from the outset. The connecting cable is only about 20cm long – it doesn't need to be any longer – and when you've finished with it, it simply wraps around the speaker, in its own groove, popping into the provided recess. All very neat.
Power
Three AAA batteries provide the juice and we've had the same set in there for the last month and a bit that we been using it and they're still doing their job.
Turning it on and off is simply done by gripping the shiny silver top at the speaker and the black base and rotating them in different directions. We found it a little stiff, but manageable.
No volume control
Initially we found it a little strange that there was no volume control on the Orbit – just because that was what we were used to having on speakers.
You soon realise that it make total sense, because any device that you connect to it will have a volume control on it. Not including it simplifies the design – which we like.
Solid
We've been using it for a few weeks now and despite having carried it around in our kit bag, it's stayed just as shiny as it was when it arrived – which sadly isn't always the case with other kit.
When do you use it?
The more that we've used it, the more we've come to find it useful.
Connecting it to a music player, or music-playing phone is the most obvious. Sitting on its three small padded feet, the results far exceed its dimensions.
Great for laptop video sessions
When it's proved itself most valuable is watching DVD or online videos on the laptop when lounging on the sofa. Often laptop speakers aren't quite up to the job of projecting enough sound to avoid you having to strain to hear. We found the Orbit so effective that we had to turn the laptop volume down to find the right level.
Other uses that come to mind that we haven't applied it to, including those who have to use their laptops to carry out demonstrations with audio in other's offices.
Summary
It's well thought out, with a good, strong quality volume output – and oh so easy to use.
Any time you need to be with, or need to share your music, it's worth popping in the bag.
The only downside to it, is that we've only got one of them and often find ourselves needing to use it when it's downstairs!
Recommended for a last minute christmas present … or for any nomadic music lover.
Scores
Ease of use: 90%
Build: 85%
Sound quality: 75%
Value for money: 75%
Overall: 80%
It has a retail price of £40 in the UK and is available online too.