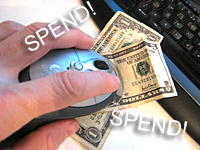 A recent survey has reported that 97 per cent of those who responded intended to do a 'substantial proportion' of their Christmas shopping online.
Having written about online activity for more years that we care to remember – six, as you're asking – we know that there's been a thirst for online shopping growing, the benefits are clear, generally lower prices and convenience being the most obvious.

Looking closer at this survey, we see that 50,000 people were invited to express their views about it, but only 537 actually responded. It's well known that response rates are generally not strong, but even by normally low return rates, 0.017 per cent is very low.
It's also worth bearing in mind that the organisation who put out the survey, sendmediscounts.co.uk, clearly attracts those who like a bargain. Nothing wrong with discounts of course, but it does frame the results somewhat.
While those of us at Digital-Lifestyles jumped onto online shopping as soon as it came out – it was new ….it was shiny – over the years we've become more conscious of passing our money to companies that aren't based within our own country and the long-term effect that draining money out of the country, and more importantly local economy has.
Shopping local is good … even if it cost a little bit extra. If you don't, there isn't going to local any more.