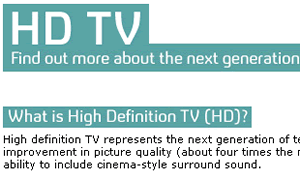 Uk broadcaster, Channel 4, has launched High Definition broadcast of their channel, distributed on using the Sky satellite platform.
No prizes for guessing the name for it – Channel 4 HD.

Not all content will be in HD, but where the HD programming is available, it will be. Initially this will be US sourced programming, but from spring, the channel's soap opera, Hollyoaks, will be available in HD.
To see the content, you need to have a HD-capable TV, a Sky HD box and current subscription, tuning your box to Ch 140.
Since Andy Duncan – who was previously at the BBC, and among other things, launched Freeview, forming the foundations of the success that it is now – joined Channel 4 as its Chief Exec, it has launched many new TV channels and pushed forward its electronic distribution of its content.