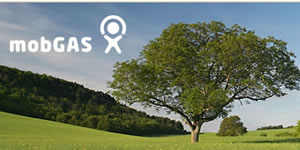 It's a good thing that we're all becoming aware of the impact of our actions on the world as a whole. One of the problems is being able to know what the impact different types of actions make.
To that end, the European Commission (EC) has launched an application, mobGAS, that you run on your mobile phone to help you monitor your daily activities, and enable you to understand the impact of greenhouse gases, carbon dioxide, methane and nitrous oxide generated.

The process isn't automatic – that would be tooooo spooky – but just by entering everyday activities, such as cooking, transport, lighting and the use of electronic appliances, individual emissions are calculated.

All of this is gathered together into an emissions diary, showing daily, weekly and yearly emissions. These can also be shared through a Web site, showing national averages.
It being for the EC, many countries and languages will be support – it's intended to reach 27 countries and 21 languages. They'll all be available for free download.
mobGAS isn't a unique idea, we saw an idea just like this at the RCA end of year show.
If you're feeling like you want to make small changes in your life in order to reduce your impact on the world, we recommend signing up for The Nag.