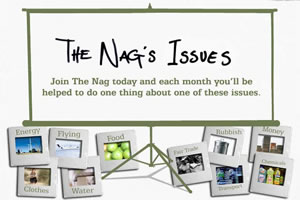 There's a million different uses for the Internet – many wasteful, quite a few that are useful and some that are vital. There's a new site launching today that, if it's founders wishes come true, could actually change the world.
The Nag hopes to assist all of us who are conscious that we (the world's population that is) aren't treating the world quite as well as we should be and would like to make positive changes, but don't quite get around to it.

By prompting you once a month with a helpful tip, it nudges you along the path of changing a few things in your life that will reduce your impact on the worlds resources.
Sounds too good to be true doesn't it?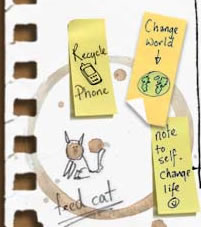 The team, lead by Briony Greenhill, have worked long and hard in identifying things that are, in her words, "the lowest effort, with the highest impact," designed to "make it super easy to do one thing a month to make your life a bit greener."
Here's an example. Everyone who pays an electricity bill, could switch their providers to a greener supplier – one who sources their electricity from companies that produce their power with the minimum impact on the world – but they don't as it's perceived as difficult.
The Nag have pre-selected the companies that are not only the greenest, but also have made it the easiest to change to them. All you have to do, is look through the information provided, make your choice and eh voila! You've just made a possible saving 2 tonnes of CO2 for your household every year. How good would that make you feel?
The thinking behind it is, born from the frustration of knowing that you want to do something to make a change, but as life is quite busy enough thank you, there's a natural tendency to let these things that we 'really want to do' slip. By sending you an email only one a month, it can help you make those changes.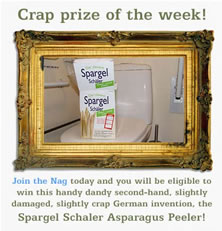 With most of the actions being able to be done there and then, there's nothing to think about later … or forget to do later.
Like all great ideas, it seems blindingly obvious doesn't it?
It doesn't stop there though, and the plans for the expansion of the site are exciting.
One that's up and working now is referrals. Once you sign up, you'll be able to tell your friends and colleagues about it and hopefully they'll sign up – making you feel even better, especially when you look at the site and see the combined impact of their actions.
This feature also works with groups and to prove it works, we've set up a Digital-Lifestyles one, so if you live in the UK (more countries are planned later), pop yourself over to The Nag and start to make the world a better place.
(Podcast of the interview with Briony)