In part one we looked at the shell of the phone, now we look at how to use it.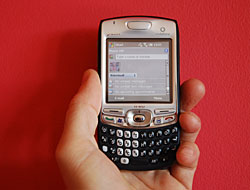 Using the phone
Firing up the Treo with a push on the red 'end call' button brings up a smartly redesigned Today screen with two input fields; one for typing in a name or number from your address book and the other for directly searching Google. A nice touch.
The phone number look-up box dynamically offers suggestions from your address book as you type and works well, and there's also the option to dial favourites by clicking on their mugshots.
The start page also lists unread email and text messages and upcoming appointments, with icons at the top indicating signal strength, GPRS status, battery life time and Bluetooth on/off.
Although the touchscreen screen is bright and clear, things do feel a bit squeezed with just 240×240 pixels on offer, although the screen remained easy to read, in even bright sunlight.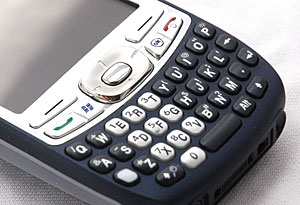 Multimedia
Naturally, with such a small display you're not going to get the full mobile multimedia experience, but videos and music played back OK and the sound from the speaker was loud and clear.
The modest 300-MHz processor managed to make videos move along with only the odd little stutter, and there was a relatively generous 60MB of free memory onboard, with up to 2GB of extra storage available through the miniSD card slot.
Call Quality
Call quality and volume was pretty good with the 750v, and we had no problem hearing ringtones so you won't be likely to miss a call. Reception was good too.
Palm has brought over the superb threaded SMS messaging app from the Treo which displays text conversations like an IM chat. It works fabulously well.
Keyboard
We've always liked the QWERTY keyboard on the Treo, and the 750v presents a rounded, more modern appearance with the keyboard lighting up like a mobile disco in your pocket.
Although the keys are quite close together, it's easy to knock out lengthy emails and nothing will persuade us that a fancy touch screen can even come close to proper hardware keys – so unless Apple have done something truly magical, we won't be joining the queue for an iPhone quite yet.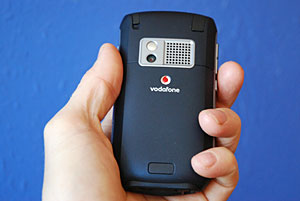 Camera
The 1.3 megapixel camera was adequate for quick snaps and blogging but nothing to get excited about, and the quality of the video recording seemed worse than the older Treo 650.
The Windows camera interface was certainly inferior to its Palm equivalent and we weren't too impressed with a 'sharing violation' error which appeared when we tried to delete a video.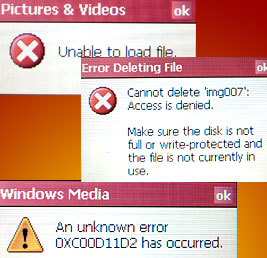 Palm's reluctance to stick a high spec camera in their phones has always baffled us – the recent Treo 680 was lumbered with a paltry 640 x 480 VGA number, and even the soon-come high end Treo 755p is only expected to come equipped with a 1280 x 1024 SXGA 1.3 MP affair.
In fairness, we have found that the Palm's cameras have often outperformed camera phones claiming higher resolutions, but a camera upgrade (complete with flash) is long overdue in our book.
In the third and final part of this review, we look at software and connectivity.