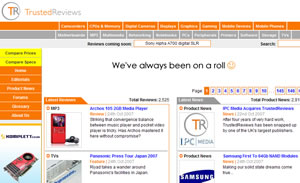 Well known tech news and reviews site Trusted Reviews has just been bought by mega-publisher IPC.
Terms have not been disclosed.

Started in 2003 by Riyad Emeran (editorial) and Hugh Chappell (commercial), Trusted Reviews did the smart thing and initially focused on reviewing technology gear – but you guessed that from the name of the site didn't you?
Latterly they've expanded to cover news in brief, giving them a wide net to cast over Google and it's News service, to the point where they now claim over 1.2 million unique users a month and 7.8 million page views.
Hugh Chappell will be skipping off at the end of the year, after he "integrated the brand into the Inspire portfolio," but the rest of the team of eight, including Riyad Emeran, will continue to work on the title, reporting to PC Inspire general manager Niall Clarkson.
IPC is itself part of a large media group, with Time Warner, the world's largest media group, being their ultimate owner.