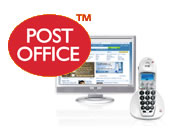 The UK Post Office is joining the ever increasing number of organisations that is offering broadband to the UK public.
To make their offering different they're planning to leverage their 14,000 post offices (currently at this level, but reducing each time they close one), to take cash for the broadband service – claiming to be the first UK provider to do this.

There are two services offered, Broadband Standard and Broadband Extra. It appears that the difference between the two services is the monthly bandwidth cap. The lower is limited to 5GB and the Extra one is unlimited … err, hang-on, subject to a 'fair use' policy. This on closer inspection doesn't appear to be that fair at all, given that they don't actually define what they see as fair
Our systems monitor the level of usage by each user on a regular basis. If we consider your usage to be excessive, we will contact you to let you know that your usage is excessive and request that you moderate your usage.
isn't that called moving the goal posts. Err, no thanks.
Besides the cash-payers they also claim to be primarily targeted at something that they, as far as we can make out, describe as the 'NETSKI' generation. They claim these are 50-65 year olds with a high disposal income.
Given the UK has just suffered a pretty long strike by postal workers, there will be many people in the UK who will be wondering if the Post Office might be better off focusing on sorting out the delivery of letters, rather than trying to take a slice of the broadband market.