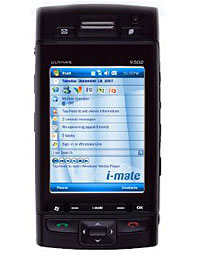 Smartphone kings i-mate have shuffled out two new high-end Ultimate smartphones, both packing QWERTY keyboards.
The 9502 packs in more features than a Friday night multi-screen cinema, offering a high resolution touch screen display, tri-band 3.5G, 802.11b and 802.11g Wi-Fi, integrated GPS, Bluetooth 2.0 +EDR and quad band GSM with EDGE.
The beefy handheld features a 2.8″ VGA (640×480) touch screen that slides out Sidekick-stylee, with a 39-key Qwerty keypad lurking below.

Running Microsoft Windows Mobile 6.0 Professional, the 9502 measures up at 116mm(L) x 60mm(W) x 17.8mm(T), packs a
400 MHz Qualcomm MSM 7200 processor and weighs in at a pocket-yanking 200g with battery pack.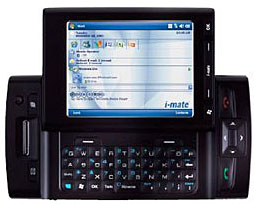 Also onboard is a 3.0 Megapixel auto focus camera with LED flash, VGA camera for video calls, with memory coming n the shape of 256MB ROM and 128MB RAM with a MicroSD card slot for expansion.
There's also a very handy video output for projectors and displays and a not so handy 2.5mm audio jack.
Powering all that lovelt technology is a fairly beefy removable 1620mAH, Lithium ion-Polymer battery with a claimed battery life of 180 hours standby and 260 minutes talk time (UMTS).
Full Ultimate 9502 specs are listed below.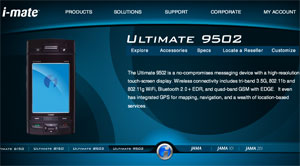 i-mate Ultimate 8502
Also announced is the Ultimate 8502 which although not quite so big on features, still looks a mightily equipped fella.
The candybar-shaped 8502 packs the same Wi-Fi, GPS, Bluetooth 2.0 radios, memory configuration and 400MHz Qualcomm processor as its big brothers, but downgrades the camera to a lesser 2MP jobbie, with the display dropping down to a less impressive 2.6-inch QVGA.
Pricing and availability for both these models is still to be announced.
Ultimate 9502 specifications
Platform
• Microsoft Windows Mobile 6.0 Professional
Dimensions
• 116mm(L) x 60mm(W) x 17.8mm(T)
• 200g with battery pack
Processor/ Chipset
• 400 MHz Qualcomm MSM 7200
Memory
• 256 MB ROM
• 128 MB RAM
LCD Module
• 2.8" VGA (640×480) Touch-screen
• 262k colour TFT with backlight
Radio Function
• GSM / GPRS / EDGE
– Quad-band 850 / 900 / 1800 / 1900
– GPRS class 10 Type B
– EGPRS Multislot Class 10
• Tri-band UMTS / WCDMA
– Band 1 (2100 MHz)
– Band 2 (1900 MHz)
– Band 5 (850 MHz)
– Diversity for Band 1
– HSDPA and HSUPA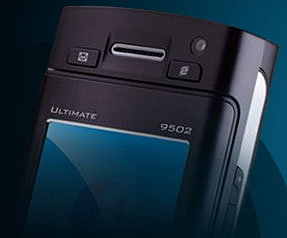 • Services
– Speech Services with EFR/FR/AMR codec
– Emergency call
– DTMF tone generation
– Call holding, waiting, forwarding, baring
– SMS
• SIM function
– 3V/1.8V uSIM operation
– SIM application toolkit
• Internal Antenna
Keyboard/ Buttons
• Slider LCD exposes 39-key Qwerty keypad
• Power button
• Send and End buttons
• Messaging and Internet buttons
• Camera button
• Volume up and down
• Three (3) software programmable buttons
• Two (2) soft-keys
• Start and OK buttons
• 5-way navigation
• 360° Jog wheel and OK / Back
• Soft reset
Notification
• Blue LED indicates Wifi, Bluetooth and GPS status.
• Green / Red LED indicates network status, device power, charging status and system event notification
• LED, sound, and vibration notification
Multimedia
• Supports: AAC, AAC+, MP3, Midi, AMR, ASF,WMA
• Full duplex speakerphone
• Integrated microphone and receiver
• One 2.5mm earphone jack with stereo sound
• Advanced Echo Cancellation
• Supports H.263, H.264, MPEG4, WMV
Power
• Removable 1620mAH, Lithium ion-Polymer battery
• Standby up to 180 hours (UMTS)
• Talk Time up to 260 minutes (UMTS)
Camera
• 3.0 Megapixel auto-focus camera – LED Compensation light
• VGA camera for Video Calls
Connectivity
• WiFi 802.11 b/g
• Bluetooth
– Class 2 transmit power
– Supported profiles
› ActiveSync profile
› Generic Access profile
› Serial Port profile
› Object Push / OBEX profile
› DUN (dial-up networking profile)
› Hands-free profile
› PAN profile
› A2DP (Advanced Audio Distribution profile)
› AVRCP (Audio/Video Remote control profile)
› HID (Human interface device profile)
Inbox Accessories
• AC adapter
• USB Sync cable
• TV + Audio out cable
• Stereo headset with microphone
• Protective Pouch
• Stylus
Interface
• Combo port for USB, TV + Audio output, Chargin
• MicroSD card slot
• Audio jack (2.5mm)
• SIM card slot
Included Software
• Windows Outlook Mobile: Calendar, Contacts,
Messaging, Tasks, Windows Push Mail
• Word Mobile, Excel Mobile, PowerPoint Mobile
• Internet Explorer Mobile
• Windows Media Player 10 Mobile with Control
Panel
• ClearVue PDF viewer
• i-mate GPRS Configurator for WAP and MMS
• Profile Controller
• RTSP Video Streaming
• Picture & Video Viewer
• ActiveSync Client
• Windows Live Messenger
• Calculator
• Voice Notes
• File Explorer
• MMS Client: MMS 1.2 supported
• Java Virtual Machine (J2ME, CLDC 1.1, MIDP 2.0)
• i-mate Suite 30 days trial
• SIM Manager
• Video Calling
• Voice Speed Dial
Ultimate 9502