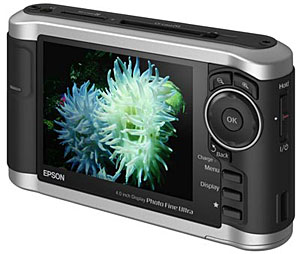 Yesterday we started to look at the many ways of tackling the issue of data storage when on the move.
Mid priced viewers
Deep pocketed photographers looking for more professional features may be impressed by the EPSON P-3000 Multimedia Storage Viewer, offering movie and photo playback on a large 4″, 640×480 pixels, Photo Fine Ultra LCD, backed by 40GB internal memory, built-in CF and SD memory card slots, long battery life and a built-in audio player.

There's support for RAW file thumbnails from around 40 dSLR models and images can be handled right up to a wall-filling 30 million pixels. The cost is equally massive, with the P-3000 retailing for around £300, and the bigger 80GB version, the Epson P-5000 hitting you to the tune of £430.
The Pro's choice
A particularly impressive high end choice is the Jobo Giga Vu Pro:evolution, a portable media player developed for pros offering histogram values, dust and blown highlights detection and a crosshair readout for RGB values.
The 145x107x38mm, 420g unit comes with a 3.7-inch TFT LCD, 640x480px resolution screen plus support for MP3, MPEG-4, USB 2 and USB 2 OTG, with the CF card slots (type I/II) capable of hurtling files across at a whizzy 13mb/second.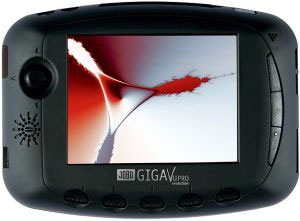 The Giga Vu Pro can display JPEG, RAW, and TIFF photos, backed by the ability to zoom in and rotate images. There's also a built-in FTP server for connecting with Wi-Fi enabled cameras via an optional 802.11b CF card.
Naturally, something as good as this has a price tag that feels like being hit around the mush with a cold herring, with the 40Gb model priced at £369, the 80Gb £429 and the extra-tasty 120GB model delivering a £589 punch.
Personal Media Players/iPods
If you don't fancy the expense of a dedicated photo wallet, you may be able to upload the images to your portable media player, although not all support photo transfer functions.
iPod users can grab the optional iPod Camera Connector for transferring photos to the iPod photo (30 GB and 60 GB) and iPod 5G (with Video) models but the EveryMac site notes that "all iPod models starting with the iPod classic (6G) and iPod touch do not support importing photos from cameras at all."
The site also warns that, "You cannot import photos to any iPod mini, iPod classic, iPod touch, or iPod shuffle models from a digital camera. You also cannot directly import photos to any iPod nano models using the Apple iPod Camera Connector or a third-party solution…"
Users of most Archos and SanDisk personal media players should have no such problem though.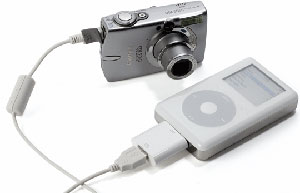 Our solution
Being bereft of iPods and deficient in the portable media player department, we've found ourselves using a variety of back up methods, adopting something of a belts'n'braces methodology, mainly out of fear of losing our sacred shots.
Our current three pronged back up system involves:
1. Taking loads of SD cards on our trips and using a fresh one after each one is filled up. The 'used' SD card then is then stored safely and acts as our first back up
2. Copying all the images to our laptop, and using a card reader for image transfers to save the camera's battery life
3. Burning DVDs of the files and either carrying them separately (so we'll still have the photos if our bag gets half-inched) or posting them home via ye olde Snailmail.
It's worth noting that whatever system you employ, don't forget to take along an ample supply of chargers, power supplies, batteries, solar chargers or hamster powered transformers if that's what you need to keep your gear going.
Pack your cameras carefully, take a cleaning kit and be sure to take out insurance for your cameras and equipment, and keep a record of the serial numbers, make, model and descriptions.
More reading
Photo travel tips [photo.net]
Travel Photography 101 – How to Take Better Travel Pictures
Dan Chung's travel photography tips