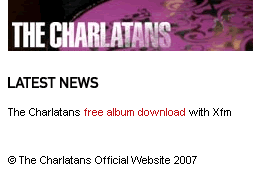 The Charlatans plan to give away their forthcoming single.
If the news from earlier in the week about Radiohead letting their fans choose how much to pay for their next album didn't make you sit up, you could well spit out your coffee when you hear what Alan McGee and the Charlatans are planning to do.

Give it away. And the next single. And the following album.
Their logic, McGee (of Creation Records/Oasis fame) explains is that their future income will come from selling tickets to live gigs. Not a new idea, but it's brave for them to act on it.
Who the hell are the Charlatans any more?
Many might think that McGee is an opportunist. Who the hell has heard of the Charlatans in the last 10 years or so? McGee's probably picked them up for nothing and he/they're in a fantastic position to revive their career. The other major advantage for them is as the Charlatans are out of contract, they/McGee have right to everything; the merchandising; live concerts; publishing rights – a very unusual situation in the music world, where different parties normally have different rights. Well done one an all we say!
McGee told the Independent that it was a deal that they were offered by their record company Sanctuary, that they "considered less than satisfactory," that got them thinking about the idea, quickly followed by the realisation that those under 20 years old don't by CDs.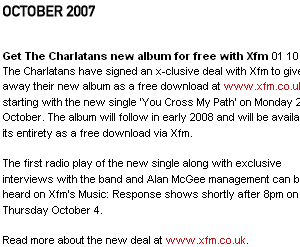 By going it alone, without the record company and giving the music away, McGee view is that they will "increase our fan base, we sell more merchandise, more fans talk about the band and we get more advertising and more films (soundtracks). More people will get into the the Charlatans and will probably pay the money to see the show. I presume it will double the gig traffic, maybe even treble it."
UK alternative music radio station Xfm will be giving it away on their Web site from the 22 October. Obviously Xfm will also gain considerable PR benefits form it too.
Mike Walsh, the head of music at Xfm, could well end up getting his botty spanked for saying that they wanted to, "embrace something that we feel will inevitably become more common in the future."
At last, some people in the music business are starting to speak the truth in public.