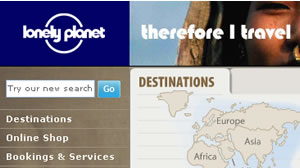 Big surprise today as BBC Worldwide, the commercial arm of the BBC, announce their purchase of Lonely Planet, the well-know publisher of travel guides.
The purchase sum was not disclosed and the two founders Tony and Maureen Wheeler will retain a 25% holding in the company.

Lonely Planet currently publish around 500 titles including specialist activity guides, shoestring guides and phrasebooks in various languages.
Their Website receives an impressive 4.3 million unique visitors a month and lonelyplanet.tv, their travel video site, is building an online community of independent travellers.
Etienne de Villiers, Non-executive Chairman of BBC Worldwide, points toward where they see the growth being in the digital world, "We are all convinced that the association will strengthen Lonely Planet's visibility and growth potential, particularly in the digital arena, as well as providing their users access to the wide range of BBC content which connects with their interests – from Michael Palin's New Europe to Planet Earth."
Trouble Ahead?
This move will do nothing to abate the allegations that the BBC abuses its dominant position.
In BBC Worldwide's own words, "The company exists to maximise the value of the BBC's assets around the world for the benefit of the licence payer and invest in public service programming in return for rights."
Many will be confused as to how buying Lonely Planet fits in to that definition.
We suspect that other travel publishers will be quaking in their boots at this news.