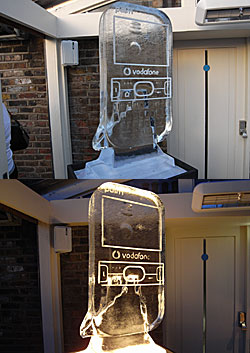 We were here in Soho to attend the London launch of the new Treo 500V phone, a 3G/UMTS handset available exclusively to Vodafone customers from 1st October (the phone will become available without contract in Jan next year).
As you may have noticed, our earlier prediction that Palm was about to launch a European version of the 755p turned out to be nothing but wishful thinking, so we'll have to settle for the Windows version for now.

Running on the Windows Mobile 6 standard platform, the Treo packs a QWERTY keyboard and largish, non-touchscreen display and comes in two colours: glacier white and charcoal grey.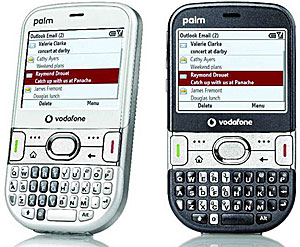 There's a 2-megapixel, video-capable camera on the back with a fairly generous 256MB of onboard memory (150MB for users), as well as a microSD slot and Bluetooth 2.0.
The Treo 500V supports video streaming and comes with IM, SMS, Web and email (including Microsoft Direct Push) connectivity, plus mobile versions of Microsoft Outlook, Office, and Windows Live.
Bizarrely, Palm have decided to remove what was one of Treo's real innovations – the mute button at the top of the device.
We have to say that the phone looks and feels much better in the hand than the publicity photos would suggest – and the Vodafone interface was surprisingly attractive and nippy to the touch.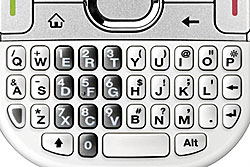 Aimed at the 24-35 year old business/consumer demographic, our initial impression of the phone is very positive.
The screen looks bright and crisp, the body seems sturdy enough to take a few knocks and the keyboard feels up to the well-regarded Treo standard, although perhaps not quite as solid as the 650/680.
We'll be giving the phone a full review shortly, so check back soon.
Specifications
Platform Windows Mobile 6 Standard Display 320×240-pixel Transflective colour screen; supports 16-bit colour, (up to 65K colours)
Radio GSM/GPRS/UMTS radio
GSM bands: 900/1800/1900 UMTS bands: 2100
Bluetooth Version: 2.0 + EDR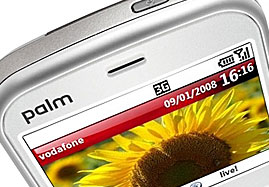 Profiles: Headset, handsfree, EDR, serial and OBEX. Mono and stereo headsets are supported
Memory 256MB memory (150MB available user storage)
Camera 2.0 megapixels with 2.5x digital zoom and video capture support
Battery Removable 1200mAh, lithium-ion
Talk time: 10 days standby, and up to 4.5 hours of talk time
Expansion MicroSD card
Connector Mini USB
Dimensions 16.5mm (D) x 61.5mm (W) x 110mm (H), 120 grams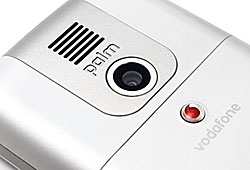 System Requirements Windows XP, Vista
Bundled software: ActiveSync, Alarm Clock, Bluetooth, Bubble Breaker, Calculator, Camera, eBay1, File Explorer, Google Maps1, Internet Connect Sharing, Internet Explorer Mobile, Messaging, Microsoft Notes, Microsoft Office (including Excel, Outlook, PowerPoint, and Word), Phone, Picture and Video, Solitaire, Task Manager, Vodafone Mobile Windows Live™, Windows Media Player Mobile Palm Treo 500V
This was written on a Palm Treo.