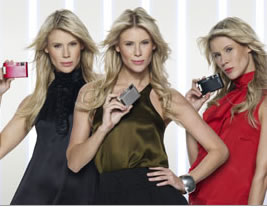 We got excited about face recognition in digital camera when we first heard about it – when the FinePix F31fd came out back in Septemeber 2006 – but now it's becoming run of the mill.
Sony have taken it one step further with the Cyber-shot T200. Not only does it spot faces, but it will automatically take the photo when the person in shot smiles.

So you don't go snapping every smiling fellow/fellow-ess, you prime the camera with a press of the shutter button, once you've set it onto Smiley happy mode, when it spies a smile, it shoots, taking up to six shots before you need to press the shutter again.
We think it's a pretty neat trick. We're not going to go into too much depth about the moral side of forcing people to smile in pictures, or forcing future generations into thinking that the earth was only filled with people who were happy and smiled – if you don't want to use the feature, you don't have to use it, do you?