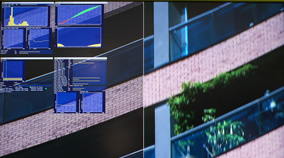 If you want to know where consumer electronics are moving, there's no better place to find out than via the people that make the chips that will power these devices.
One that came into being last year that really impressed us last year at IFA was NXP, a spin-off from Philips, essentially what used to be their chip R&D division.

The innovations that we saw on the stand this year impressed us even more, so we'll be doing a series of articles complete with audio recordings and some video.
We were taken around the stand by Paul Martin, Strategic Marketing Manager and Carlo van Pelt, PR Manager Home.
This first recording gives you the overview of what NXP have been up to over the last year- they've created 500 innovations in the last year alone! These have been focused into three area
Handling the various sources and formats of digial content coming to the consumer
Making what gets to the consumer sound and look better
Distribution of that content – eg Anytime, anywhere usage
[audio:https://digital-lifestyles.info/media/audio/nxp-carlo-paul-martin-ifa.mp3]
What's coming up?
Over the coming posts about the NXP stand visit you'll see
The Nexperia PNX5100 – a new HD chip that will improve the visual performance of HD TV considerably
Navigating + playing YouTube videos on a STB
Dual view screen for car use
Variable LCD backlighting
In-car NFC use for Bluetooth config
Pretty good eh?