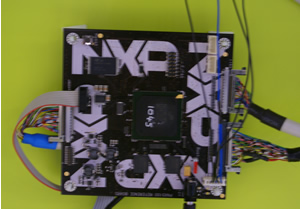 If you thought that HD TV was the best picture you're ever going to see, think again. The release of 100/120 Hz Full HD TVs gives you a pretty clear idea that the market is moving again.
NXP showed us a chip the Nexperia PNX5100 which really ups the game for HD. Lower down you can listen to the interview with those involved and watch a video of it working.

How new is it? Well, it came out of the fabrication plant ten days before we saw it, and NXP has a team of 50 people working on making it ready for the show. New, as in, couldn't be newer.
Frankly, once you've seen an HD panel with it running, everything that you've seen before will look very sloppy. It's highly impressive.
Major functions are
three-frame HD Movie Judder Cancellation and full motion-compensated up-conversion to 1920x1080p @ 120Hz – smoothing the pictures out when there's camera movement
Automatic Picture Control (APC) – making sure the picture is just about as good as it can be colour and brightness-wise.
The onboard chips have incredible power – about the same power as a multi-Gigahertz PC processor, but without the heat that PC chips generate. They have to be, as they're shifting 23 thousand million datapoints per second! Yes you read that right. 23 (us) billion.
As we said it's hot out of the fab plant, and NXP are expecting to have it in HD TVs, through their production partners, in the middle of next year.
It's very hard to capture the vastly improved effect the chips gives over standard HD, especially on a YouTube video, but we hope you get some idea. The picture on the left of the split is how a 'normal' HD panel works, the right is with the benefit of the NXP chip
[audio:https://digital-lifestyles.info/media/audio/NXP-Nexperia-PNX5100-Explained.mp3]