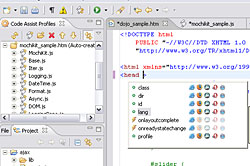 Following coverage earlier in the week of the updates to BB Edit and Homesite 5.5, here we look at the freeloader options.
If you're keen to work in a text based environment but the wallet is only home to a few flapping moths, there's loads of freebie HTML text editors worthy of a look.

Despite its rough and ready website, the Danish Stone's WebWriter looks to be a very capable and lightweight program, while the long running First Page enjoys a wide following.
Advanced users may be interested in the open source Aptana, a robust, JavaScript-focused IDE for building dynamic web applications.
Based on the Mozilla platform and its Gecko layout engine, the multi-platform, open source Nvu comes with XML, CSS and JavaScript support and offers a WYSIWYG editing environment for folks who like that sort of thing.