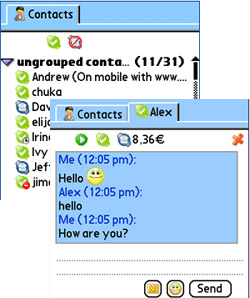 With the folks at Skype continuing to ignore the loud pleas from Palm OS users, German firm Shape Services have created a Palm Skype compatible client, IM+ for Skype, which is also available for BlackBerry, Symbian S60 v3, Java powered phones and Windows Mobile Pocket PC platforms, with an iPhone version in beta (see below).

Installing the program on our Palm Treo 650 was simple enough and once we'd inputted our Skype account details, we were presented with a screen similar to the standard desktop app, listing our contacts and showing their online/offline status.
It's not a VoIP client though and the calls aren't free – for any voice communications you'll need Skype credit on your account and be ready burn up your SkypeOut minutes, as Shape explains:
"When you make a call both the contact person and you will get the call. This is because when you use IM+ for Skype you are actually making two calls: one – to Skype contact on PC and another – to your callback number. As you receive an incoming call to your callback phone you will be charged for it. The call is possible due to Skype credit on your SkypeOut account."
Similarly, you'll have to fork out for all incoming calls (see their FAQ for more details).
The trade off from using this system is that you'll get much better call quality than with VoIP and you won't be hogging so much of your GPRS data allowance – and it'll still work out a lot cheaper than calling over a landline.
Skype chat
To be honest, we weren't so bothered about the calls – it was the ability to use Skype IM chat on the go that really excited us, and IM+ for Skype worked flawlessly in this department.
With lots of friends and business partners on Skype, we've been waiting for a Skype chat client for a long time, and this one's already proved to be well worth the $14.95 fee, with the app incurring no monthly fees and Shape promising free updates to registered users.
Seeing as Skype chat uses GPRS data, it'll also work out cheaper than sending text messages, and in our tests we found the text updated on our phone more or less instantly.
We rather liked the program. You can download IM+ for Skype and try it out for yourself from here: Shape.
(Edit to add: as of 20th Aug 2007, IM+ for Skype is now certified by Skype).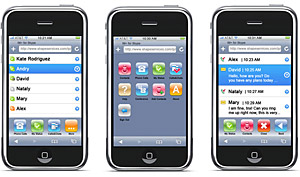 Skype on the iPhone
The company have also announced a version of IM+ for Skype for the Apple iPhone today which uses the Safari browser.
According to Shape, the iPhone app has been designed especially for the iPhone's touchscreen interface and offers Skype voice calls and instant messaging.
iPhone users can log on to http://SkypeforiPhone.com via their Safari browsers to try out the beta service.