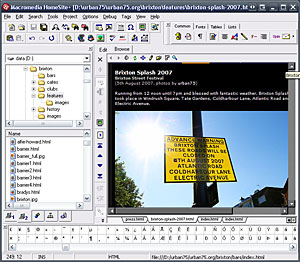 Homesite 5.5 (Windows)
Windows users looking for similar levels of hands-on functionality might want to take a look at the long serving Homesite 5.5.
Although cruelly neglected by its current owners, Adobe, Homesite still rates as one of the very best HTML/web editing packages on any platform, offering a highly customisable editing environment backed by macros, projects, powerful search and replace tools and code-checking add-ons.

Coupled with the powerful TopStyle CSS editor – arguably the best style sheet editor on the planet – and the useful HTML Validator, there's enough power on tap to create world beating websites.
This combination has long been our weapon of choice and comes thoroughly recommended to authors who like to stay in control of their code and are fed up dealing with the trigger-happy coding excesses seen on many 'advanced' visual editors.
Look out for freeloader options later in the week.