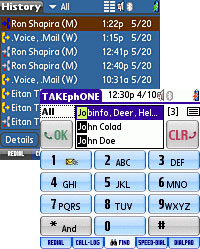 TAKEphONE is a slick utility that turbo-charges the Treo's contacts/phone applications and provides a lighting-quick way to access your address book and then call, email or SMS listed contacts.
Looking up a contact is extremely fast: just type in their initials and all matches will appear onscreen. Start typing in the letters of a first name or second name and matches will dynamically update and become available for clicking as you type.

You can even use an "&" search, so that if you're looking up 80s big hair stadium belter Tina Turner, typing in "T & T" will narrow the results down to all contacts that start with a T for the last name and a T for the first name.
It's very, very fast and we can't think of anything quicker on any phone – and you'll certainly leave iPhone users far behind – in fact, the system is so quick we've never even bothered to input a lot of our favourites.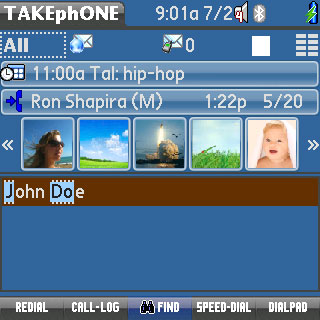 The program supports the Treo's 5-way jog dial so getting around the screen is easy, and with most of the onscreen controls being large enough for finger operation, you'll rarely (if ever) need to yank out the stylus to get things done.
The attractive interface sports an optional, horizontally scrolling iBar which lets you dial contacts by clicking on their photo.
Customised actions can be set for each contact, so that clicking on one photo will immediately call that contact, while another could be set up to call up a dialogue box giving you the choice to directly call, SMS or email the contact.
Look out for part two of the review where we cover contacts, tabs and give you our conclusion.