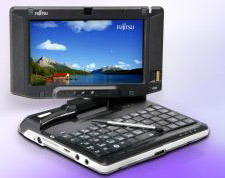 So small you want to pat it on the head and send it to bed early, Fujitsu's diminutive Lifebook U810 is an ultramobile PC that can keep up with the big boys.
Weighing just 1.6 pounds, the pint-sized, pocketable portable sports a 5.6-inch LCD touchscreen display (which can be swivelled around into a tablet PC), Wi-Fi, a QWERTY keyboard and runs on Microsoft's Windows Vista OS or XP Tablet operating system.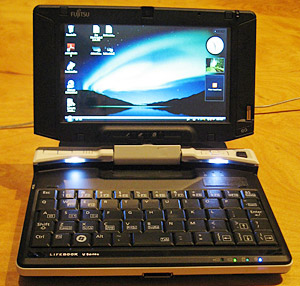 Originally only available in Japan, the Lifebook will be hitting the North American market in September, and Fujitsu's Mobile Product Marketing head honcho, Paul Moore, was ready to share the love: "Basically, anything that can be done on laptop can be done on this. "We really view it as a PDA replacement. It's much more robust, much more mobile and much more powerful."
The Lifebook U810 ultramobile PC is powered by an Intel A110 processor purring along at 800MHz, backed by 512KB of L2 cache and a 400MHz front side bus (FSB).
There's an integrated Intel 945GU Express chip set on board, with the Lilliputian lappie offering 1GB of RAM, a 40GB hard disk drive and 802.11 a/b/g WLAN (wireless LAN).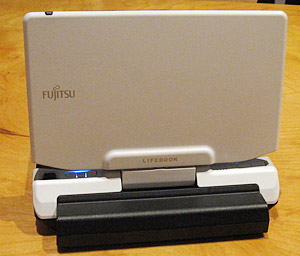 Battery life is cited at an impressive 5.5 hours, with the Lifebook optionally shuffling into a docking station for users who want to hook it up to a full-size screen and keyboard.
The U810 is scheduled for a Sept. 18th 2007 release with a base price of $999, said Moore. A solid state drive (SSD) version of the ultramobile PC is expected to be announced later.
(Additional photos: Brighthand)