LonelyGirl15, the YouTube fictional character, who started out trying to con all of the YouTube viewers into believing that she was actually real, not the product of a writing team, has finally 'died'.

The last episode of LG15 was split into twelve separate sections, distributed one hour apart, attempting to mimic supposedly hourly updates of the adventure. For those not familiar with it, if you choose to watch it, you'll be met with a whole load of whining American teenagers asking "Why is Bree so special?", lots of cameras shaking around and passing through an abandon warehouse (but of course). It's all about The Order apparently.
Psst, Bree dies in this episode.
It's interesting to note that, despite YouTube having 'made' LG15 what it is, the episodes premiered on MySpace _before_ it came onto YouTube – we guess MySpace must pay better.
Despite being caught out by YouTube viewers, interest in the character and her story has continued, but never to the same degree of the early episodes. Not to lose the possibilities of continued viewership, Bree has been replaced by a selection of other attractive young girls and boys.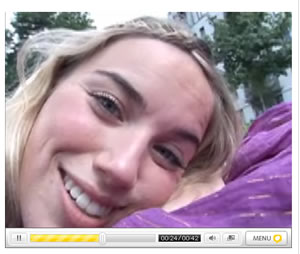 Kate Modern
You may remember back in April, we covered how they LG15 writing team has been signed up by the UK social networking site, BeBo, to create a new character, Kate Modern.
Is there any co-incidence that the passing of Bree and the recent birth of Kate Modern on BeBo has occurred around the same time?
Kate is on her sixteenth video episode on Bebo, and while Bebo doesn't show the number of times a video has been shown, if the number of comments left on each video is a judgement of how popular Kate has been, or how many times Kate's Bebo Profile has been read (~54k at the time of writing), it falls well below the popularity of LG15 on YouTube.
With Bree out of the way, perhaps LG15 fans will move over to Kate?