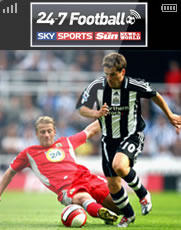 As we're not fans of football, we're constantly amazed at how keen people are to watch the game that involves people kicking a pig's bladder around an oblong section of grass. Ho, Hmm.
Never one to not take the opportunity of cramming more football into people lives, Sky TV has teamed up with a load of other 'newspapers' owned by media mogul, Rupert Murdoch, to create 24-7 Football.
It's a new on-demand service that will offer video highlights and goal clips from the Barclays Premier League and UEFA Champions League on mobile phones.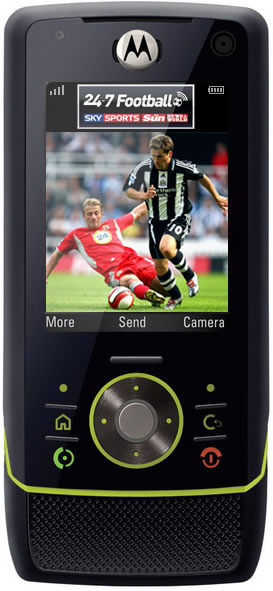 It's cornucopia of fab football,
'In-game' goal clips – goals 'as live' whilst games are being played*, from the Barclays Premier league and UEFA Champions League [except Saturday afternoon window (2.45pm-5.15pm), in line with UEFA regulations.]
Post-match highlights – exclusive downloads of highlights packages from any of the
380 Barclays Premier League games, after the final whistle.
Video archive – archive access to goals, highlights and interviews from any Barclays
Premier League or UEFA Champions league game throughout the season.
Plus – coverage from Sky Sports' Gillette Soccer Saturday and Soccer AM
There's two way of paying for your football fix, either£5/month or 50p per clip.
Not all the UK mobile networks are covering it – T-Mobile, O2 and 3 networks – with exceptions being Vodafone and Orange. Footie fans on those should not fret too much as Sky say "further deals with the other major UK operators are expected in advance of the new season. "
One of the most interesting parts of this deal is that the amount paid includes all data charges, so no additional amount are due, and there's no big shock at the end of the month. This may explain why there are some networks missing from the offering – data charges are usually added.