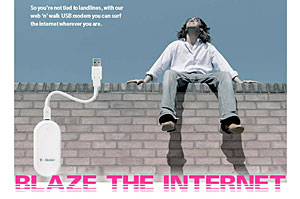 If you're needing Internet access for your laptop when you're out and about and the Wi-Fi's nowhere to be seen, – and you haven't been lucky enough to have been using the version that Vodafone has been exclusively offering for nearly a year – you might be interested in the T-Mobile web'n'walk USB modem.
As its name suggests, this wee little fella made by Huawei plugs into a USB port on your laptop, with a once-only auto-installation program getting you up and running in minutes. Two USB cables are included.

Once installed, the software starts up automatically whenever the modem is plugged in.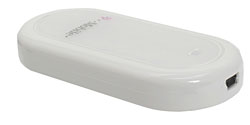 The modem comes as a small, white plastic thingamabob, and measures up at a compact 42mm wide, 88mm tall and 15mm thick. with the slot for your SIM card on one side.
A single LED on the top of the modem offers connection information, and glows blue when connected to the faster HSDPA (3.6) network, turning green when only lowly GPRS is available.
The PC software lets you send, read and delete SMS messages, and access the SIM card's phone book, with options to manually connect and disconnect. Data connections can be monitored, with daily, monthly and yearly upload and download data totals helping you keep within T-Mobile's not quite unlimited fair-use limits (see below).
T-Mobile claim that speeds up 1.8Mbps are possible using the modem – easily fast enough for most web based activities – and we can see the benefits to road warriors, perpetual holidaymakers and folks who are constantly moving house.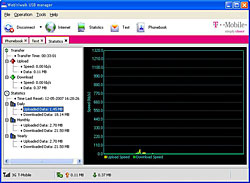 The pricing isn't too bad either, with T Mobile bundling the modem in free with two 'unlimited' monthly data plans costing £29 and £44.
Of course, T-mobile's definition of 'unlimited' is somewhat at variance with what our dictionary says, with the cheaper Plus plan limiting you to to 3GB of data per month with no VoIP, while the Max plan lets you get Skyping to your heart's content, backed by a 10GB monthly data allowance.
T-Mobile also provides drivers for Apple Macs, but the modem is not plug-and-play, so some minimal user interaction is required for installation.