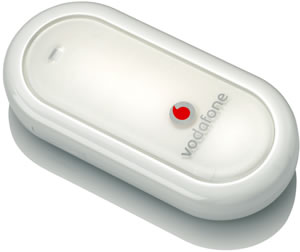 Well they got there finally, Vodafone UK have announced that they're releasing the less than catchy named Vodafone Mobile Connect USB Modem in the Autumn. It will support their 3G data service and, surprise, surprise, connect to computers using a USB lead. Rather neatly the software disks aren't needed, as they're installed directly from the modem.
This advance will broaden out the service to any machine that doesn't have a full sized PCMCIA/PC Card slot because it's too old, or it's too modern, like the some of the new laptops which only support the smaller ExpressCard, or their Apple Macintosh's that might not support either.
Connection to the HSDPA network, in optimum conditions, will be a healthy 1.4Mbps receive and 384Kbps transmit. Currently Vodafone high-speed 3G network covers the major conurbations in the UK, but not the whole of the UK. Their stated plans are 75% of the population by summer 2007.
There will be a suggested limit of 1Gb of data transfered a month. Those who do not comply "may be asked to moderate their usage," and persistent usage in excess of the limit "may also result in suspension or termination of the customer's service."