As of today BT is reshuffling its phone pricing structure. In a typical move of a power-crazed ex-monopoly, it's giving with one hand and taking away with another.
The ability to get going on this was given by Ofcom when they lifted restrictions on BT's UK landline pricing structure.
The 'giving'
BT hasn't had the take-up with its bundled packages that it had hoped. From today, subscribers of its Option 2 & 3 package will receive around a third price cut. The included-evening/weekend calls to landline packages will move to £3.95 & the all landline calls to £9.95. This is the packages that they're trumpeting – shame that most people won't benefit from it isn't it?
The other part BT is drawing attention to, is the reduction in price of calls to 0870 and 0845 numbers – the sort of numbers most people have been forced to call to speak to their banks. Oh … and they tell us that they've reduced the price of calls to mobile phones.
Almost to add insult to injury, BT is offering all of their 16m subscribes 25p off their monthly line rental at the end of the year- TWENTY FIVE PENCE! We've just wasted that typing this. Of course, much to our distress, most broadband services (supplied by BT Wholesale) need to pay the line rental. Why should we? and how much longer can this be allowed to continue? Come on Ofcom.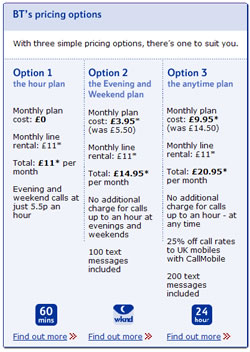 The 'taking'
The majority of BT's 16m customers pay per call on the Option 1 scheme. Sadly for them, things won't be such a bargain. BT is changing their standard charging unit from per second to per minute – not something that we've seen since the wild-west days of early mobile phone companies, where the cowboy operators tried to extract the maximum amount of money from the suckers customers.
We think it more than sneaky that BT have given people Call Minder, their free phone answering service, then charge people a fixed fee (3p) or 'setting up' the call, then charging whole minutes. When many people get an answer phone, they hang-up because they don't want to leave a message, or to try to call their mobile – in the meantime BT will collect the setup fee PLUS a whole minute charge, for a couple of seconds.
As to how much the minute will be – we don't know. We've looked, really we have, pretty hard too – we've even tried to use their price list search – but to no avail. Isn't it a bit of a give away that if you need a search engine for your price list, you're possibly going to be confusing the customer.
Interestingly, for the first time, BT have listed Skype on their pricing structure on the press release. Welcome to the future BT.
If you've got a couple of hours to spare, and fancy trying to extract pricing information, you can have a look at the BT Together site.