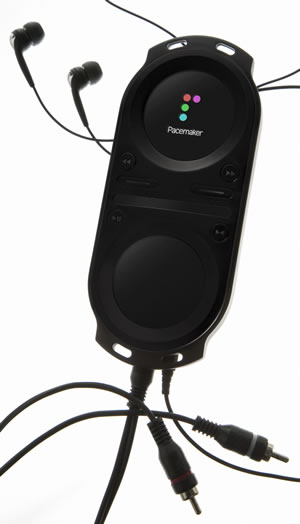 We've just found out about an amazing gadget – a handheld DJ mixer called Pacemaker by a new Swedish company called Tonium.
As soon as we heard about it, we were straight on the phone, as we'd been knocking around similar ideas at the Digital-Lifestyles offices.
Think of it as an iPod, with a built-in DJ mixing booth – and effects box attached.
It's miles ahead of the clumsy iPod mixing which has been around since 2003 and, by the look of it, it will also fit into your pocket, being it's 164mm/70mm/23mm (think PSP-sized) and 200g.

It's held the opposite way to the PSP (vertically), placing a small display at the top of the device, two cross faders in the middle, and a round touch pad at the bottom. The pad is used for finding track cue points as well as controlling the effects. Four other buttons are used for looping 'n' that.
Importantly it's got two outputs – headphone (natch) and line out, for plugging into the sound systems.
Loaded with a 120Gb hard drive and an estimated 18 hours playback time, it's not going to limit your artistic performances.
Supported audio formats are the usual suspects, plus OGG Vobis for the open-source fans, and FLAC for the quality fanatics.
Ola Sars, their sales and marketing director tells me that the idea has been rattling around the head of CEO Jonas Norberg for the last two years. Things have stepped up a gear since then and for the last year they've been developing the device and are meeting with investors currently.
In the wild
Tonium, the company behind the Pacemaker, took it to Sonar, the well-known music festival in Barcelona, for its first public airing. From the videos and pictures that we've seen, it went down well.
This baby is preproduction currently (as you might tell from the rendered image), but the Pacemaker should be released in November and the price is as yet undefined, but the guidance is that it'll be an "accessible price," "in the order of iPod pricing."
If it works as well as it looks like it does, this could be one of the biggest hits.
We're going to follow this one like hawks.
See it in action.