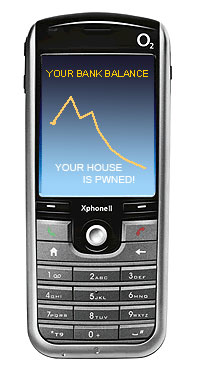 Vodafone has shaken hands and heartily slapped besuited backs with its chums at the mobile banking service Monilink to secure a deal allowing their customers to access their bank accounts from mobile phones.
Part of Vodafone's "Internet On Your Mobile" initiative to give access to fully-featured web sites, the service will let customers with Internet enabled phones go online to check their balance, request a mini-statement and top-up their "pay as you talk" mobile phone balance.
The Monilink service is available for nowt for customers of Alliance & Leicester, First Direct and HSBC, with the Royal Bank of Scotland, NatWest and Ulster Bank joining the party later this summer.

Customers can get a piece of the mobile banking action by registering directly from their handset or via the Vodafone web page. Once, registered, they can log on to their account via a secure application, protected by a unique passcode.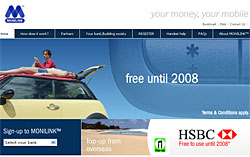 "With the launch of the Vodafone Internet On Your Mobile we want to give customers access to all the services they see as essential. Banking is one of the most important services that our customers use and by partnering with the Monilink network we can ensure that all of our customers are able to access their bank accounts on the move, whenever they want," purred Al Russell, head honcho of Vodafone's mobile Internet team.
The service was whizzed up by mobile banking specialists Monitise and the company behind the UK's ATM network, VocaLink.