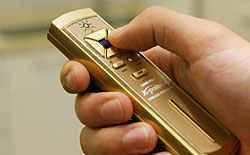 If you're finding that your PowerPoint presentations are lacking a little bling and pizzazz, then you might want to consider investing in the gold plated X-pointer to dazzle your audience.
The (frankly hideous) piece of shiny tut functions as a remote control, a wireless mouse, a laser pointer and a portable storage device, and comes coated with an 18k gold finish.

Looking like the sort of thing that Liberace may have employed to activate his underpants drawer, the X-pointer lets keen-to-impress presenters bedazzle punters up to 100m from their laptops, ensuring that everyone in the room gets to admire the golden sheen.
The handset communicates to laptops via an equally florid USB dongle, which comes with 1GB of memory.
Using the remote's four way controller, users can stop and start presentations and access other PC controls, with two buttons below offering a mouse left and right click functionality.
Underneath that there's a single button to activate the laser pointer, allowing you to highlight objects onscreen and temporarily blind anyone found talking at the back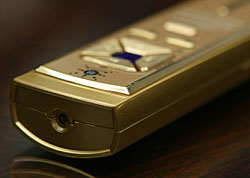 Personally, we reckon this thing's got as much style as a comedy kipper tie, but if you're the sort of idiot, moron cash-rich winner that feels to need to flaunt their wealth at every opportunity, we can tell you that it's made by Chois Technology, and the whole garish ensemble will set you back around $215.