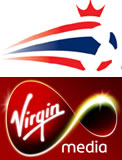 As we all know Virgin Media and Sky TV have been having a little spat.
Now Virgin Media are taking a leaf out of Sky's book and signing up rights to distribute sports.
The Football League have signed a deal that will see the Coca-Cola Football League matches will be delivered to Virgin Media's broadband and mobile phone platforms for the first time.
Starting on 11 August and running for two seasons, the highlights of league 1 and 2 will be available to watch on-demand for up to one week after transmission.
No surprisingly, Malcolm Wall, chief executive officer of content at Virgin Media, earnestly sang, "We're committed to investing in great content for our customers and this new partnership will give football fans a genuinely value-added service."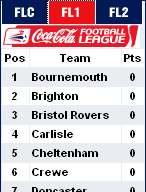 The Championship, as it's abbreviated to by those who follow it, is the step down from the UK Premier League, but that doesn't mean there isn't a load of cash involved with it. Deloitte are on record as finding that, in 2004-05, it was the richest non-top flight football division in the world.
Why?
No matter how poor, or not, football teams are, they do a very loyal fans, so much so that making their matches available on on-demand may encourage people to change their mobile or broadband provider. Or that's the bet that Virgin Media are making.
Commercial terms were not disclosed.