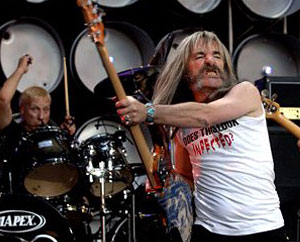 MSN is claiming that their live streams of last weekend's LiveEarth gigs attracted the "most ever" online viewers.
By 8pm last evening, MSN said that it had whipped up more than 10 million video streams, earning it the crown of being the most simultaneously viewed online event ever.

Visitors to the site could get stuck into on-demand footage of all the live performances, with the option to peruse artist interviews and behind the scenes footage, or click on the rapidly rebranding Chevvy links.
MSN has said that it will continue offering the footage of the eight specific Live Earth events for "several weeks" with visitors able to search for specific songs and artists.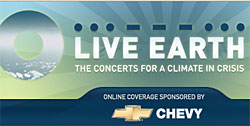 Users are also encouraged to upload video commentaries about environmental issues that concern them or talk about Live Earth performances on MSN's video-sharing site, Soapbox. If we could be bothered, we'd upload a piece asking what the chuffin' heck Melissa Etheridge was doing delivering that toe-curlingly embarrassing, "the world needs America to lead" nonsense at the gig.
"Live Earth is committed to providing our global audience with ways to 'Answer the Call' and individually make a difference to help solve the climate crisis," table-thumped Live Earth founder and producer, Kevin Wall in MSN's announcement.
"By providing the opportunity to view the shows in their entirety online, coupled with our unique solutions campaign, we're able to communicate this message on a mass-scale in a way that engages people and inspires them to act," he continued in full buzzword bingo mode.
Right. We're off to watch Spinal Tap.