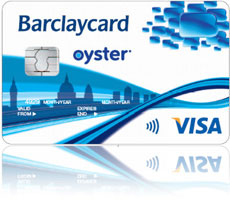 Barclaycard has released details of its new multi-purpose credit card that combines Oyster smartcard, credit and contactless functionalities.
Expected to be launched across London this September, the three-in-one "OnePulse" card will be the first UK credit card to pack Transport for London (TfL) Oyster contactless travel pass technology, giving the capital's commuters one less card to lug about.

OnePulse users will be able to pay for both pay-as-you-go and season ticket payments with the new credit card.
As well as regular chip and PIN purchases, the clever-clogs credit card comes with smartcard radio frequency identification (RFID) technology, so customers can pay for low value goods (under £10) using UK contactless payment systems. These are set to be trialled in retail outlets later this year.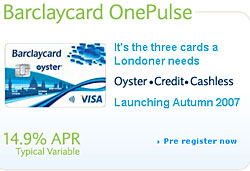 The first retailer to try out the system is London takeaway salad bar, Chop'd, who will be rolling out the contactless terminal technology in its three central London outlets this autumn.
With 95 per cent of its transactions under a tenner, Chop'd managing director Jasper Wight likes the cut of OnePulse's jib: "With fraudulent notes and the responsibility of cash onsite, cash has become a high-risk part of business," he said.
"We see contactless as a way of reducing this risk and some of the management time that is required to cash-up. We can't wait for it to be up and running in our stores this autumn," he enthused.
Users chomping at the bit for some combo credit card action can register their interest ahead of the launch at the Barclays website.