The US found itself sitting right at the top of the Irish spam charts for June 2007, according to e-mail security statistics from security and e-mail monitoring firm, IE Internet.
Their filtering stats show the US as being a veritable hotbed of steeenkin' spammer activity, generating 37.4 per cent of all spam during June, miles ahead of the next big spammers, China, who registered 17 per cent of spam sent to Irish firms.
The UK reared its v1ag5a-shifting face with 10.9 per cent of all spam, followed by Mexico (9.9 per cent) and Russia (7.6 per cent).

"There's been a remarkable resurgence in the amount of spam coming from the US," noted Ken O'Driscoll, IE Internet's chief technical officer.
"The US used to be the dominant player in spam but when legislation was brought in many US spammers moved offshore," he added.
O'Driscoll says that the activities of US spammers working offshore accounted for a large chunk of the high positions reached by China and Mexico in the spam chart, commenting, ""It's not that there's a bunch of Chinese spammers; many US spammers are operating out of these countries."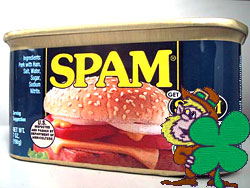 67.4 per cent spam, viruses down
Studying emails sent to 35,000 Irish businesses during June, IE Internet found that over two thirds were pesky spam, with viruses making up just 4.1 per cent of the total.
O'Driscoll said that viruses have been on the decrease, pointing out that in 2002 over 20 per cent of e-mails would have contained viruses.
You don't hear about viruses infecting businesses anymore. It's home users that are affected more," he commented, observing that virus writers now target home users to gain control of their PCs and then use them to sneakily dish out spam to businesses by the shedload.
"Virus writers have control over these PCs. They then sell access to this network of zombie PCs to spammers," he said.