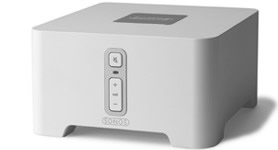 This is the concluding part of the review of the Sonos BU130 Review
Formats supported
The Sonos players support MP3, WMA (including purchased Windows Media downloads), AAC (MPEG4), Ogg Vorbis, Audible (format 4), Apple Lossless, Flac (lossless) as well as uncompressed WAV and AIFF files. Apple DRM and WMA lossless are not supported.

The players can also connect to various music sources including Rhapsody. It will play music downloaded from AOL, Audible, Napster, eMusic and even Zune marketplace (unfortunately only for US people at the moment).

Other bits
The ZP80 requires connection to an amplifier (and speakers), but Sonos also make the ZP100 is a powered player i.e. it has a built-in amplifier. It's very chunky and heavy (4.5Kg and 10.2 x 8.2 x 4.4 inches). It has 80W stereo output and a line level sub-woofer output. There's also an analogue line-in, so a CD player or other device can be played through the player (or in fact any other connected player).
It has four wired Ethernet ports, as well as wireless connectivity.
Sonos also sell bookshelf speakers (SP100 which are solidly built) but it will happily drive higher end units. In theory there's a discrepancy as the speakers are only rated to 75W while the ZP100 is 80W so driving them at full volume could blow the drive units (not tried!!!!).

Conclusion
The Sonos system is well put together, but let down by the software. If Sonos natively supported iTunes servers, uPnP, Slimserver then it would be a really great system.
The players are just drab grey/white boxes, the controller is the one thing that they've got right and beats everything else.
The Slimdevices players are definitely prettier, though their controllers (remotes) aren't much to look at.
At £699 for the bundle, the price is now sensible.
Our verdict
Ease of use overall 70%
Features/software 50%
Controller Quality 90%
Value for money 60%
Build Quality 90%
Overall 65%