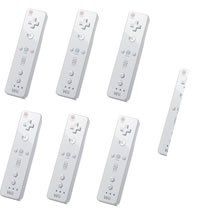 Further news of the power of the Wii arrives, with Japanese data service Famitsu Marketing Data Service reporting that the Nintendo Wii outsold the PS3 again in Japan.
June saw another factor of one being added to the previous two months of PS3 thrashing with Wii outselling it 6.5 to one. The figure quoted are 270,974 Wiis against 41,628 PS3s.
April saw a ratio 4:1 of Wii to PS3 sales and May a 5:1.
Clearly these latest figures are just one territory, but we've been pointing out how much more popular the Wii was with the public since before its UK launch.
The Xbox 360 is relatively no where with a tiny 17,616 being sold, putting the Wii outselling it at 15 to one!