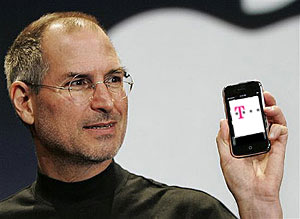 Where does the insanity of the iPhone coverage go now? The US hoopla is over, so the media needs another hook, and today sees it heighten – the battle of the European operators to have the exclusive for the iPhone.

The most obvious contender is global mobile operator, Vodafone. These stories started well before the actual US launch, back in March, but now the buzz is focused on the T-Mobile.
With T-Mobile being Germany-based, it's quite right that German publication, Rheinische Post, broke the story that T-Mobile could be the iPhone-winners in Europe.
T-Mobile themselves are pulling the silent approach, by giving the official word, "No comment."
Fellow German newspaper, Handelsblatt, is reporting that the choice for Apple still hasn't been made.
Der Spiegel is reporting that the German price will be 450 Euros and it should start to sell on 1 November (BTW – Spiegel Online is pretty set on it being T-Mobile).
With it being a national holiday in the US today, it's highly unlikely that there'll be any official word today anyway.
Here's the only fact that we can say for certain – there's only a few people at Apple who know any of this for sure. And they're not going to be telling before The Steve gives the OK.