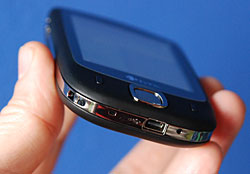 In Part One we gave you an outline of the phone took a gander at the look and feel.
Opening up the Touch
The phone may be elegant on the outside, but it's not such a pretty picture when you need to get inside.
Opening the phone was tricky enough, requiring a fair bit of energy to slide the back off to install the battery, but worse was to come when we looked to install the SIM and MicroSD card.

Although both slots are accessible via a single flap on the right hand side of the phone, opening this up was a hell of a fiddly job. No matter how we tried to coax the flap open, it wouldn't play ball, until we eventually gave up and opened the back again and then pushed it open from inside.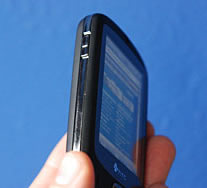 After some more cajoling, a very fragile-looking flap reluctantly parted from the case and then we had another frustrating few minutes trying to poke the SIM card in. It's really badly designed.
Connectivity
Instead of the stingy little cards often bundled with phones, we were pleased to see HTC include a generous 1GB MicroSD card with the Touch, supplementing the 64MB RAM and 128MB ROM of onboard memory. Another nice, err, touch.
When it comes to connectivity, the Touch almost has a full house, sporting GSM/GPRS/EDGE Tri-band: 900, 1800,1900, IEEE 802.11 b/g Wi-Fi and Bluetooth 2.0, with the company quoting a battery talk time of up to 5 hours (200 hrs standby time). Our tests so far would suggest that HTC haven't been exaggerating.
After some initial frustrations with the less-than-helpful OS, we managed to connect the device to our Wi-Fi network and found it reasonably speedy in use.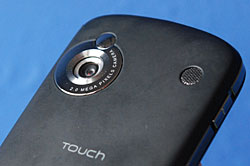 Multimedia
The phone comes with a speakerphone, smart dialling, voice commands and dialling, and the usual SMS and multimedia messaging.
The onboard 2-megapixel camera offers a 8x zoom and video-recording capabilities, but with no flash. There's a choice of five photo sizes and four quality settings with other features including white balance settings, a night shot settings, self timer, time stamp option and a picture counter.
Videos can be recorded with or without sound in MPEG4, Motion JPEG, or H.263 formats in just two resolution choices.
Picture quality was reasonable, although a little pixilated.
In Part Three, we look at the TouchFlo technology, how easy (or hard) it is to input text and give you our conclusion.